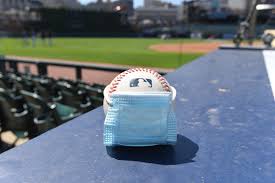 By James "Giacomo" Gatto
In my previous article, I discussed, amongst other things, the coronavirus and the precautions that were being taken by Major League Baseball to ensure of the safety of the athletes, coaches, and staff. If you remember, I stated I didn't think it would be an issue with regard to the players themselves taking precautions away from the ballpark. Well, three days into the regular season and we have our first outbreak. Early reports are indicating that at least one Florida Marlins player decided to go out on the town and perhaps put himself in a compromising situation. I was pretty sure the players would follow strict protocols and be as careful as possible. Perhaps a shortsighted view, as there are many factors that we, me included, never seriously considered.
First, it seems, as we already suspected, that the coronavirus will not be denied entry, anywhere; irrespective of even the tightest precautions. It seemed that Major League Baseball, with all the safety precautions, had a good chance of being impervious to the virus. But, as so quickly demonstrated by recent events, even the tightest precautions may not be enough. Here's what we think we know so far: one of the Miami players stepped out for a night on the town in Atlanta. Now, this is in Atlanta, one of the nation's Corona virus hotspots. That alone is disturbing. This is after a gentlemen's agreement that all players who decided that they wanted to be part of this year's Major League Baseball Season would practice strict social distancing. The implications for which were quite simple: infect myself, expose my teammates. The ramifications of which can be disastrous–for both their health and their family's health, and for the baseball season. Now then, the player or players, who have not been named specifically, left the hotel in Atlanta during their exhibition games with the Braves. One of those players tested positive, and via group text the team decided to play the game anyway. This is OK according to Major League baseball's protocol. The Florida Marlins contacted Major League baseball's operations and made aware to them the situation with their team and their decision to play. Two days later, eighteen members of the Marlins tested positive for the virus. The Philadelphia Phillies who were on the field with the Marlins during the outbreak are now quarantining. The Phillies were scheduled to play the Yankees on Tuesday and Wednesday. Those games were postponed. They are to be played at a later date, schedule permitting. So, there is some schedule shuffling taking place. And as of right now, not too big an issue. But, should outbreaks continue what are some of the ramifications?
So, let's take for example The Miami Marlins situation: one or more players decided to go out on the town and infected at least a dozen others, totaling eighteen. Before they received the test results, they decided to play a game against the Phillies knowing at least one player was infected. The Phillies also new, and so did Major League Baseball. After learning that eighteen players and coaches were infected, the Marlins will be shutting down for a few days at the very least. The Phillies are doing the same. Insofar as the virus spread, they seemed to have it somewhat under control. But as a result, the MLB schedule has to be reorganized, with a total of three teams being affected, possibly more. The Yankees for instance have not played a game in two days and have been forced to juggle their schedule. The same is true for both the Marlins and the Phillies. Going forward, all three teams will have to make up games, and possibly never get the chance due to scheduling. If the quarantining of both the Phillies and the Marlins lasts longer than two days more teams will be affected–the teams that they are scheduled to play three days from now. Those teams will then have to juggle their schedules, and so on and so on. So, you see folks, one player getting infected can cause this much turmoil throughout the baseball world. It seems inevitable that we will see more cases on other teams. Should that be the case, we're looking at a huge problem regarding scheduling. One team testing positive can affect their next three opponents, and those teams being forced to juggle their schedules can affect their opponents and so on and so on. So, if we have, say, three or four teams with infected players at any given time we could see a situation where very little or no baseball will be played for at least a few days. So how long can this go on before the season would be rendered invalid? This Just in, bench clearing brawl during the Braves/Astros game. We will wait and see if there are any ill effects coming out of that debacle.
There are some scenarios to consider . There's always the possibility of eliminating some games with non-divisional opponents, thus leaving more days available for makeup games against divisional rivals. In this scenario we can simply have a winner based on record in each division and the winners of each division to go on to the playoffs. There can also be a minimum number of games each team needs to play to qualify, and they are then seeded based on winning percentage. This is not fair by any means, but these are extenuating circumstances. And sadly, there's always the possibility that too many teams miss too many games for the season to be worthwhile in any way–which I think would require a full cancellation of the season with no playoffs and no World Series winner. There is one other possibility, which may be quite unpopular, but if all the players agree may be workable. And that is to simply loosen some of the rules and allow games to be played if a team has enough players who test negative. In this scenario, MLB can make provisions available for reserve players. Perhaps a reserve squad, much larger than the number of extra players allowed under the present rules. Of course, this would water-down the talent, but it wouldn't interrupt the season and create scheduling turmoil. There would have to be unlimited roster moves only in the case of replacing an infected player, and then when that player is ready to play replace the player who replaced him. Sort of an understudy available at moment's notice for each active roster player. Any other roster moves would have to be within the regular rules which govern roster moves. Obviously, proof of positive tests results would have to be submitted to MLB, in order to avoid replacements for reasons other than virus protocol. Frankly, there is no simple solution.
Finally, I don't believe we can have this conversation without discussing the social implications of resuming professional sports. Over the past few weeks, I've had numerous conversations regarding these moral and ethical issues. Why should professional athletes have better access to testing than the average person? Why do they get to be tested every two days? This doesn't seem fair. I agree, it is indeed unfair. But I believe the anger is misdirected. When you consider that our politicians, those of whom are required to come into close contact with their colleagues, are also being tested on a regular basis, what constitutes who receives what? We can view this as favoritism or privilege, but I disagree. Our essential workers, specifically doctors, nurses, and those in the medical field; supermarket and restaurant workers; mail carriers and delivery people; and any other worker who provides a service which is essential for the rest of us to live safely and have the things we need. These individuals are grossly underequipped, and are left to their own devices, in many cases, to fend for themselves to obtain their own PPE. In fact, there are numerous charity organizations whose sole existence and function is to raise money to secure PPE for essential workers–a duty whose sole responsibility falls at the feet of federal, state, and local government. So, the issue is not with the people who are enjoying better access to preventative health care and protection equipment, but with our elected officials who have failed to provide these services to every citizen. We see this every day in our regular healthcare system. If you're lucky enough to work for an employer who provides health benefits, you're one of the lucky ones. If not, you need to find a way to get private insurance. I cannot, in good conscience, condemn any individual or group for benefiting from being employed buy a "good boss." I can however condemn our elected officials for not allocating our tax dollars for these essentials. The issue isn't that "they're" privileged and we're not. Testing and PPE, specifically, is not a privilege, it's a right for every citizen in the entire world. Athletes are not receiving special treatment; the average citizen is-in the most negative sense. The average citizen is not receiving what is guaranteed to us by our government. Our government is failing us, and our anger should be directed at those who are responsible for this failure—specifically, those in the White House. Nuff Ced.
Professional sports are back, whether we like it or not. For me personally, I am looking forward to it. If the players can stay safe, and that remains to be seen, then I believe it would serve as a wonderful distraction for the American people in these difficult times. For the past four or five days I have been enjoying the return of baseball, and now hockey. I actually have something to look forward to every day. For the past three months, we have been leading the most mundane of existences. For some, so monotonous that they are now seeking mental therapy. This is not to be taken lightly, as the number of suicides is rising; more and more people are showing up at emergency rooms experiencing panic and anxiety attacks; and more and more people are drinking alcohol to excess. While there are many things that we can do to keep ourselves levelheaded, what could be better than to escape for three hours into the world of a live sports event? Professional sports, not just baseball, are America's favorite pastime.
So, I say, why not?
Contact the Feature Writers