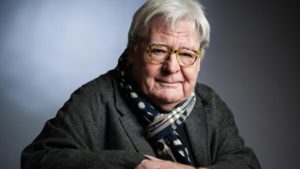 By Geoffrey Huchel
The entertainment world mourns the loss of versatile filmmaker Sir Alan Parker. Parker died on July 31, 2020, of natural causes, in London, England. Parker was known for using a wide range of filmmaking styles and working in different genres from musicals to dramas to horrors/thrillers.
Beginning in his late teens, Parker worked as a copywriter and director of television advertisements. After about a decade of doing advertisements, he began screenwriting and directing films.
Parker's directing credits include BUGSY MALONE (1976), MIDNIGHT EXPRESS (1978), FAME (1980), SHOOT THE MOON (1982), PINK FLOYD:THE WALL (1982), PINK FLOYD: ANOTHER BRICK IN THE WALL PART 2 (1982), ANGEL HEART (1987), MISSISSIPPI BURNING (1988), THE COMMITMENTS (1991), THE ROAD TO WELLVILLE (1994), EVITA (1996), ANGELA'S ASHES (1999) and THE LIFE OF DAVID GALE (2003).
The films MIDNIGHT EXPRESS and MISSISSIPPI BURNING earned Parker Oscar and Golden Globe nominations. Parker earned an additional Golden Globe nomination for EVITA.
Ringside Report sends our condolences to the Parker family during their time of grief.
Contact the Feature Writers