"Randy's Ringside" On Ringside Report: Covid-19, Boxing & Donald Trump Must Go!
[AdSense-A]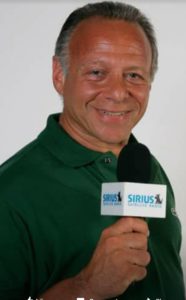 By Randy "The Commish" Gordon
Back in early January, when we were still saying "Happy New Year" to one another, 2020 seemed as if it was going to be such a promising year. For boxing fans, their sport seemed poised on a readiness to have its biggest calendar year in decades. Then…COVID-19.
The USA shut down. No schools. No businesses. No restaurants. No boxing.
We were told by the White House, "This will disappear like a miracle."
Winter 2020 came and went. COVID-19 came and stayed. Still, there was no help from the White House. There was no help from an elected leader who can't lead.
Winter turned into Spring. Schools were still closed. So was everything else, including the eyes of the White House.
"It's under control," we were told.
It absolutely was under control. In places like my home, it was under control. That's because I wasn't going out, other than for an early morning jog or for a drive with my wife on a normally packed, but now deserted Long Island Expressway.
As Summer approached, COVID-19's intensity and ferocity increased. I mourned as I lost friend after friend in boxing (writer Ron Ross, trainer Jimmy Glenn, cornerman Nelson Cuevas, and referee Eddie Cotton).
I knew the only way to bring an end to the virus was to keep myself from being its next host, its next victim. I stayed locked in.
"We need to get back to work," said the White House."
Summer began and boxing returned, thanks to the diligent efforts of Hall-of-Famer Bob Arum and his promotional company, Top Rank. Working (gloved) hand in (gloved) hand with the Nevada State Athletic Commission and the MGM Grand Hotel Casino, they came up with a way boxing could return in medical safety. There would be no fans in attendance, and all involved (fighters, corner people, commission members, the television crew, security and promotional team members) would be temperature-checked, thoroughly tested, masked, and kept in their rooms until it was time to move into "The Bubble"—the convention room turned into a makeshift arena, open only to those who are medically-cleared.
As the Summer wore on, many states used the same beliefs as Top Rank used in its medical protocol for its fights and as states such as New York used: People wore masks. They kept their distance. They stayed out of crowds. Many other states listened to the White House.
"Open up, get back to work," was the directive from 1600 Pennsylvania Avenue.
Georgia did so. Arizona did so. Florida did so. Iowa did so. Iowa's COVID-19 numbers climbed after they did. Iowa even allowed a crowd of around 3,000 mainly-unmasked fans to attend a fight in Davenport on July 18. It's no surprise the number of positive cases for COVID-19 in the state is climbing. For that, they have their Governor, Kim "KOVID" Reynolds to thank.
Now, as the Summer of 2020 heads into its back half, the USA is still battling COVID-19, the disease the White House told us months ago would "go away as fast as it came" is still out of control in many states. There have been nearly 5 million U.S. cases and close to 160,000 deaths.
As our President recently said, in typical Donald Trump style: "It is what it is!"
With that, I turn my attention to boxing, which, along with my family, friends and colleagues, gives me the exact opposite amount of feeling I have for the un-Presidential man who has, almost single-handedly, brought back the "Spanish Flu of 1918," the Great Depression of 1929 and the race riots of 1968.
Now, let's talk boxing.
Since Bob Arum brought boxing back to us June 9 on his Summer Series on ESPN, we've also been treated to boxing events on ESPN+, DAZN and Showtime (which has an exciting Fall season of fanless bouts lined up from the Mohegan Sun in Uncasville, CT).
We've seen the continued development of welterweight Vergil Ortiz and former featherweight champion Shakur Stevenson; the long-awaited arrival of lightweight Felix Verdejo; and been dazzled by hard-hitting super middleweight Edgar Berlanga and heavyweight Jared Anderson.
As the first year of the new decade heads into its final 4½ months, here is what I see happening—in and around boxing—down the road.
I may be wrong, but:
• Both of the Charlo Brothers will be fighting on a Showtime doubleheader on September 26. One of them will lose.
• Unless it's like pro-wrestling (totally scripted), somebody is going down on a PPV show in September 12 in California. That somebody won't be Mike.
• The IBHOF should include the name of Junior Jones on its ballot. If not this year, next year.
• The New York State Boxing Hall of Fame MUST include trainer Freddie Brown on its list for inclusion next year.
• Vasily Lomachenko Vs Teofimo Lopez (V-Lo v T-Lo) WILL take place in 2020
• V-Lo v T-Lo will be "Fight of the Year."
• The much-talked-about rebirth and resurrection of a decades-old boxing magazine will not happen.
• Tyson Fury Vs Deontay Wilder III will fall apart waiting for COVID-19 to end. It will have to wait until 2021.
• After successfully defending his WBC Featherweight Title last February, Gary "Once a Year" Russell, JR. said he wanted to fight "two or three more times in 2020." My guess is he stays on his one fight a year diet.
• Devin Haney will make another head-shaking remark in 2020.
• Edgar Berlanga will make it 17 straight first-round KO's in his next fight.
• DAZN will be forced to re-structure
• One day, the DAZN blow-by-blow announcer will learn how to pronounce one of the names of a DAZN on-air colleagues. The DAZN bxb guy said that DAZN's boxing show—heard daily on SiriusXM, was hosted by "Ay Kay & Barak." I hope someone told him it's not "Ay Kay," but "Ock," as in "Rock." (SMH!)
• A big future awaits 24-year-old Jr. Welterweight Elvis Rodriguez. He's 8-0 with eight knockouts. A Top Rank prospect, he'll be going for victory number 9 at the end on August.
• Floyd Mayweather, JR., Wladimir Klitschko, Miguel Cotto, Andre Ward and James Toney will all be on the IBHOF ballot for induction into the Class of 2021. Only four of them will make it in.
• Jamie Foxx will get rave reviews of his portrayal of Mike Tyson in the upcoming movie, "Finding Mike."
• Dillian White will beat Alexander Povetkin on August 22.
• Dillian Whyte will still get messed around with in his totally deserved, earned and promised shot at the title.
• Daniel Dubois will beat Joe Joyce when they meet later in the Fall.
• If the BBBofC doesn't allow a crowd to be on hand, there will be no Dubois-Joyce fight.
• Tim Bradley will continue to abuse the fictitious term, "Check Hook."
• Gerry Cooney's birthday is August 24, NOT August 4th. I believe it was just corrected in Boxrec.
• I will finish writing "Glove Story" by the end of the year.
• COVID-19 will still be here when the Summer of 2020 ends.
• Donald Trump will not win the election on November 3.
• Donald Trump will be a sore-loser in the face of defeat.
• Donald Trump will become a boxing promoter after leaving the White House.
• No fighters will sign a promotional deal with him.
See ya' next week.
Be Safe…
[si-contact-form form='2′]