[AdSense-A]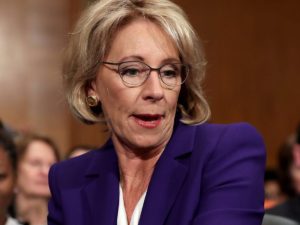 By Larry Daniels
Over 5,000 colleges and universities will be in the midst of a pandemic when classes resume this year. School administrations are struggling with the protections to put in place as state and local governments attempt to do the same. Economic diversity comes into play here. The richer institutions will be able to afford the extra expenses, and the poorer schools will have to go without complete protection.
The Department of Education at any other time history would step in and request funding from Congress for needed testing and protections against the pandemic. The Secretary of Education is normally the person to champion such requests. Betsy DeVos was selected by President Donald Trump to be that champion after his election in 2016 even though she has never attended public school.
Betsy has a bachelor's degree from Calvin University in business economics. She has served as the Michigan Republican Party chair. Her family has assets in excess of five billion dollars. Millions of dollars have been donated to the Republican party in her name over the years. Her Senate confirmation vote was a 50/50 tie that had to be broken by Vice President Mike Pence. Republican Senators Collins and Murkowski couldn't even stomach a vote in her favor.
Has DeVos ever lifted a finger to support public schools? The answer is no. Her constant agenda has been to siphon off public school funds towards charter schools and vouchers. Betsy was hit with $100,000 fine for violating a judge's order to stop debt collection efforts against former students of bankrupt Corinthian Colleges Incorporated in October of 2019. Public schools will be on their own during this pandemic. It is sad for our schools and sad for America.
What are the proposed plans colleges and universities will be using to reopen in the fall?
On July 30th,2020, The Chronicle of Higher Education broke down the current plans in five major categories, and their percentages from a database of over 3,000 colleges and universities: 21% primarily in person, 16% hybrid, 24% primarily online, 6% other, and 27% to be determined. Personally, I believe the current numbers will change as we get closer and closer to reopening.
A growing list of colleges are offering complete online classes. Bravo! The Los Angeles Times reported California State University, the largest four-year public university system in the US, has cancelled in-person classes for the fall semester at all 23 of its campuses. "Our university, when open without restrictions and fully in person (…) is a place where over 500,000 people come together in close and vibrant proximity" Chancellor Timothy White said at a meeting in May. "That approach sadly just isn't in the cards now."
Of the colleges and universities that are reopening fully, the testing procedures for students will be based on economic capability.
The New York Times reported the small, 1000 student Cornell College in Iowa is not doing universal testing on arrival. The school will be doing randomize rapid testing of 3% of its asymptomatic students per week through its health center, which will take just a few minutes to get results. Students who show symptoms will get more sophisticated testing with the help of the county health department.
In the same New York Times report it was reported that the University of California Berkeley will test all residential students within 24 hours of their arrival for free, using either a standard nasal swab, or a saliva test being developed by an internationally renowned genomics research lab on campus. Students will subsequently be sequestered for 7 to 10 days, leaving their single dorm rooms only to go (masked) to the bathroom or to pick up a meal from a central location in the building or outside then retested. If they test positive, they'll be isolated in a special dorm.
Equality is not only not part of the national plan, there is no national plan. Just thousands of schools building the airplane while flying it.
What about college student athletes?
In an article by AP college football writer Ralph Russo on August 2,2020, Pac-12 players urge opt-out amid Covid-19 concerns. A group of players (#WeAreUnited) posted a statement on the Players' Tribune website and sent out a news release. There is concern about the risks of covid-19 and that the conference and NCAA lack transparency, uniformity and adequate enforcement infrastructure. "We believe a football season under these conditions would be reckless and put us at needless risk," the players said in their news release. "We will not play until there is real change that is acceptable to us." The specific list of demands reads like a contract and is truly groundbreaking. This is my condensed version.
Health and Safety Protections
The option not to play during the pandemic without losing eligibility or a team spot; void Covid-19 agreements that waive liability; third party enforcement of safety standards with player approval that include Covid-19, serious injury, abuse, and death.
Protect All Sports
Reduce excessive pay for administration and coaches. End performance bonuses. Use University endowments to preserve all sports.
End Racial Injustice in College Sports and Society
Form a permanent civic-engagement task force with player-selected leaders to address racial injustice in college sports and society. Place 2% of conference revenue towards financial aid for low income, Black students. Form community and development programs for college athletes on each campus. Form an annual Black College Athlete Summit with 3 guaranteed representatives from each school.
Economic Freedom and Equity
Medical insurance for players, including sports-related medical conditions and Covid-19 illness to cover six years after college eligibility ends. Secure agents, receive basic third
party assistance and income from image rights. Distribute 50% of the sport's total conference revenue among the athletes by sport. Create six-year scholarships. End policies against freedom of speech, charitable work, and campus activities outside athletics. Allow transfers without punishment, including cases of abuse or serious negligence. Allow the ability to complete eligibility after a pro draft, in the event the player goes undrafted and foregoes professional participation within seven days of the draft. Due process rights.
Larry Scott, the commissioner of the PAC-12 has agreed to sit down with the players and discuss their grievances. We will know more shortly. The pandemic, along the current political engagement of the Black community gives a newfound momentum to issues that otherwise would not have been addressed. It will be fascinating to see if a fundamental change occurs. It is history in the making.
"The Times They Are A-Changin'" – Bob Dylan
Indeed, Bob, they are a-changin'.
Contact the Feature Writers