[AdSense-A]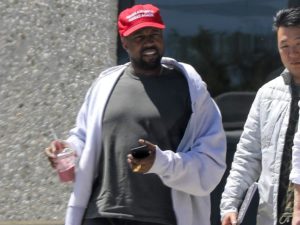 By Nikki Slusher
Rapper and wannabe independent presidential candidate Kanye West will not be appearing on the election ballot for his home state of Illinois this November. The Illinois Elections Board reportedly declared that the rap artist fell short by 1,300 signatures. Illinois requires only 2,500 signatures for candidates to be placed on the ballot, however, a state hearing officer found that only 1,200 of West's signatures were valid. A Democratic committeeperson in Illinois challenged West's petitions after comments he made last month that Harriet Tubman "never actually freed the slaves" and actually had them "go work for other white people." Sean Tanner, the committeeperson who filed the complaint, told Chicago's WWTW radio, "Celebrity or not, everyone has to follow the rules." He added: "He didn't come close."
Usually in a non-pandemic world 25,000 signatures are required for a candidate to qualify. Due to the coronavirus a federal judge reduced the number to 2,500. West's last-minute bid for presidency, which he announced via Twitter on July 4, has since launched his campaign and petitions to get onto several states' primary ballots. Currently the rapper has missed the deadline to file for several significant states, including Texas, Michigan, and Florida. He has filed to be on the Ohio ballot, and previously qualified in New Jersey but withdrew his petition after accusations of elections fraud came to light. At this date, he is on the ballot in Oklahoma, and Vermont" while pending approval of signatures in "Missouri, West Virginia, Arkansas, and now Wisconsin."
Reports surfaced this month that Republican operatives, some who are affiliated with incumbent President Donald Trump, have been actively assisting the rapper in getting on the presidential general election ballots in multiple states from Arkansas to Wisconsin and even Vermont. These efforts have started raising inquiries into the motives behind Republicans attempts for propelling West as an addition on these ballots in an attempt to convey votes away from presumptive Democratic presidential nominee, Joe Biden, in key battleground states that are imperative to both Biden and Trump's track to winning this November.
In Wisconsin, Democrats and Independents called the efforts a blatant attempt to allure interest of young Black voters who may be apathetic to Biden's campaign. Young black voters are a significant group in the upcoming election, and could potentially impact the election outcome in states, like Wisconsin, that have historically narrow margins in presidential elections. Milwaukee state Rep. David Bowen (WI-D) told CNN, "This is clearly a targeted effort by Republican operatives to cause confusion and problems for typically Democratic voters on Election Day…it's sad to see a popular music artist like Kanye be used as a pawn to trick his own people and fans to vote for a fake campaign."
Concurrently, the Wisconsin Republican Party cheered West's addition to the ballot in a statement to CNN. The Wisconsin GOP also showed support for longtime Republican and Trump lawyer, Lane Ruhland, whose efforts to aid West include dropping signatures off at the state's election board right at deadline. Ruhland has worked for a number of prominent Republicans over the years, including as one of the lawyers currently representing President Donald Trump in a frivolous lawsuit against a local Wisconsin TV station over an anti-Trump ad they aired from the Democratic super PAC Priorities USA.
Party spokeswoman Alesha Guenther stated that, "It appears that the Kanye West campaign made a smart decision by hiring an experienced election attorney," while adding that the GOP welcomes "Kanye West and all other candidates who qualified for ballot access to the race, and look forward to delivering Wisconsin's 10 electoral votes to President Trump." Recent polls for Wisconsin show Biden polling at a +6.8 lead at 48.7 percent while Trump trails closely at 41.9 percent. Also, Biden's support among Black adults over 55 is around 87 percent, and support among black adults under 40 is at 66 percent.
Earlier this week President Trump commented that "I like Kanye very much," adding "I have nothing to do with him being on the ballot. I'm not involved." President Trump may not exactly be involved, yet one possible Republican elector from Vermont, Wendy Wilton, is a Trump appointee at the United States Department of Agriculture. Wisconsin's lieutenant governor Mandela Barnes commented on the efforts via Twitter adding, "This is what desperation looks like."
So far West, who is married to Kim Kardashian-West, amassed 2 percent support in a national poll in July. The rapper is no stranger to controversy. His antics have continuously garnered attention since he entered the limelight. Initially, most of us believed this was just another tirade but with only expanding his campaign efforts it no longer seems to be a joke. Only time will tell if Kanye West will become the next like a modern-day Ralph Nader It almost seems like we continue to see the Onion headlines come true every step of this election season. Kanye, we are going to let you finish. Only this time, it will be in last place.
Contact the Feature Writers