"Randy's Ringside" On Ringside Report: A Look at Fighters Who Need to Be the IBHOF!
[AdSense-A]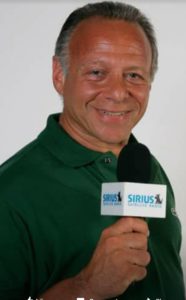 By Randy "The Commish" Gordon
It's that time again!
On or about October 1, members of the Boxing Writer's Association of America (BWAA) will receive a thick envelope from the International Boxing Hall of Fame (IBHOF). In the envelope will be ballots with the names of prospective inductees to the IBHOF's Class of 2021.
There are five categories for voters to peruse:
Modern
Old Timers
Early Era: Boxers who fought from 1893 to 1942
Late Era: Boxers who fought from 1943 to 1988
Pioneers: Boxers whose last bout was in or prior to 1892
Observers: Journalists, historians, writers and artists
Non-Participants: People who made their contribution to boxing apart from their roles as boxers or observers.
In future columns, we will examine the many of the eligible names on each of the categories. For now, let's stick with the participants. On the list of participants, there are usually around 30 names. A voter may vote for five or less.
In order to be inducted, a participant must receive 80% of the votes. In the event a fighter is not selected, his, or her name, in the newly-created Female Category, can be re-entered the following year.
There are three names which deserve inclusion on the lists of candidates. Two of them belong on the Late Era list, which limits 1988 as the last year a fighter could have had a fight. Another belongs on the list of Modern Fighters.
One of the two who should be inducted as a member of the Late Era fighters is Marvin Johnson. The native of Indianapolis, Indiana, was an Olympic Bronze Medalist (1972). In a 14-year pro career, he won 43 out of 49 bouts. He won 35 of those bouts by knockout. Johnson went on to win the Light Heavyweight Championship not once, not twice, but THREE times. His loss to Matthew Saad Muhammad (then Matthew Franklin) in July 1977 was, according to Hall-of-Famer promoter J. Russell Peltz, whose company promoted the fight. "the greatest fight I ever saw."
The way Johnson fought that night against Franklin was the way Johnson fought EVERY fight. He was a fight fans' fighter.
When he appears often as a guest of the IBHOF at their yearly induction weekend in June, the large throng of fans from all over the world flock to him—and he smilingly obliges as many as he can with handshakes, pictures and autographs. He was, in every way, a fight fan's fighter. He was, in every way, a world champion. He was a champion in the ring and continues to be one out of it. He deserves more than being on the ballot. He deserves to be inducted.
So does Eddie Mustafa Muhammad. The Brooklyn, N.Y. native, who was known as Eddie Gregory through his amateur career (where he won two New York Golden Gloves titles) and for the first seven years of his pro career, became known as Eddie Mustafa Muhammad after he became Light Heavyweight Champion in 1980. One of the best body punchers in light heavyweight history, he also possessed a powerful jab and devastating right cross. Muhammad won 50 out of 59 bouts in a career which went from 1972 until 1988. On the way to becoming Light Heavyweight Champion, he beat Matthew Saad Muhammad, Lotte Mwale and Jesse Burnett. He dropped competitive decisions to Bennie Briscoe, Victor Galindez and James Scott before stopping Marvin Johnson in a textbook performance of world-class boxing and body-punching on March 31, 1980.
He made two successful defenses over the next eight months before losing his title to Michael Spinks in July 1981. Following his retirement in 1988, he moved to Las Vegas, where he became a successful trainer and teacher. His advice is sought out by many past and current champions. Like Marvin Johnson, Muhammad's name belongs with the other boxing immortals enshrined in Canastota.
The third name who belongs on the list of candidates is Junior Jones. The former Bantamweight and Super Bantamweight champion turned pro in 1989, shortly after winning his second NYGG title. In a career which lasted from 1989 until 2002, Jones won 50 out of 56 bouts, including 28 by knockout. Along the way, he picked up the WBA Bantamweight Title, the WBO Super Bantamweight Title, and the IBO Featherweight Title. One of his career highlights were back-to-back wins against Marco Antonio Barrera. Unlike Marvin Johnson and Eddie Mustafa Muhammad, Jones will have to be included amongst the Modern fighters. As we known, the list which is soon to come out will be thick with stars and superstars.
Amongst the names expected—though not confirmed at this writing—to be on the list are: Floyd Mayweather, JR.; Wladimir Klitschko; Miguel Cotto; Andre Ward and James Toney. Throw in returning names like Michael Moorer, Nigel Benn, Ricky Hatton, Mikkel Kessler, Vinny Paz and Meldrick Taylor, and you have one of the thickest lists in years.
The chances are that four of the five names I began the previous paragraph with will be selected for induction into the Class of 2021, which will be blended with the Class of 2020, who had to sit out this years' big dance in Canastota because of COVID-19.
To include the well-deserving Junior Jones on this years' list would most-likely be futile in efforts to get him inducted. However, in another year, with at least four of the five big names out of the way, Jones will stand a better chance being put on the ballot for the Class of 2022.
Any way you look at it, Junior Jones, Eddie Mustafa Muhammad and Marvin Johnson should be on their way to Canastota—and not just for a visit.
They should be there to have their fists cast in plaster, receive their Hall of Fame rings and take their rightful place amongst the best who ever graced The Sweet Science.
Randy "The Commish" Gordon is the Author of the hit book, "Glove Affair". Order your copy by clicking HERE.
[si-contact-form form='2′]