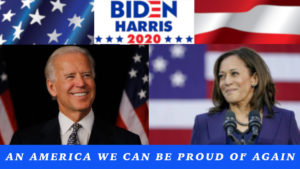 By James "Giacomo" Gatto
Wednesday, Joe Biden made his choice for his running mate in his bid for president in 2020. His choice is unprecedented in American presidential history. For the first time a woman of color will be running for the vice presidency of the United States. That alone is worthy of long conversation and discussion. Its impact on American politics, on the social milieu, and the long-awaited arrival of a female presence in the White House will be the subject of discussion for many years to come. But for today, I'd like to focus on a different topic: decency.
Joe Biden spoke for eighteen minutes. And for those eighteen minutes we remembered what decency looked like. We were reminded of how a president should look and sound. We watched a dignified man deliver a very difficult speech during a very difficult time. It needn't have been a difficult speech, but in the current atmosphere there were topics that couldn't be avoided. This speech was to introduce Senator Kamala Harris as his vice-presidential running mate. But before Joe could get to the business at hand, he needed to set the record straight. How did we get here and where are we going?
How did we get here? Well, Joe Biden laid it all out for us. And I must say he was pretty lenient on the man currently occupying the White House. But he made his point loud and clear. In a short and concise takedown of Donald Trump, the Democratic candidate for president give a brief history of the calamities purposefully perpetrated on the citizens of the United States by Donald John Trump. So much was left out. But we got the picture, one that has been indelibly burned into our collective conscience. I commend Joe for going there. It needed to be said, even though we already knew it. But rest assured there are many who watched that speech who had previously been on a steady diet of Fox News propaganda. For those individuals it may have turned on that little light bulb above their head. That "aha" moment which could be the turning point for them and the rest of the free world. Will it translate into votes? We can only hope…
Where are we going? The second portion of his speech was focused on Kamala Harris. In preparing to step away from the lectern and hand over the floor to the senator from California, he noted the merits on which he made his choice, and his personal admiration of the great lady who is now part of his "family." It was her day. But a day she shares with all of us. Specifically, for the men and women of color, not only in America, but around the world. A giant hurdle was finally cleared by Joe's choice—a hurdle that had been too high since 1789. For the first time in our nation's history a woman of color will have the opportunity to hold the second highest office in the United States, and which may very well pave the way for the opportunity to hold our nation's highest office. Women of color have long been the backbone of the Democratic Party, yet their official representation has been so poorly disproportionate to their demographic. This has been long overdue, and It's about time. It was a great day for America, and a pivotal day in American history. And Senator Harris didn't disappoint. She was equally impressive. She was honored—that was obvious. You could see it in her eyes, in her body language. The smile from ear to ear. Holding back tears, at one point. I had the feeling that America was falling in love. Here was the enthusiasm that had been missing in the Democratic Party for years. She's ready to get to work. Yes, work…honest work–a concept that seems to be lost on the Trump Administration. Nuff Ced…
I watched the event in real time not knowing what to expect from Mr. Biden, quite frankly. Was Joe going to bring it? Was it going to be flat? I was prepared for a lackluster performance. It wouldn't have changed my mind if he stuttered his way through it. Vote Blue no matter who! Honestly, Joe wasn't my first choice during the primary. But after the first minute or two I realized that I was watching the man I always knew he was but didn't seem to come across during those primaries–the gentleman, the intellectual, "Uncle Joe". The guy I had admired as President Obama's right-hand man. Here he is again! And I couldn't have been more pleased with the notion that this man could be our next president. What we witnessed is what we have all been longing for–a return to decency.
I often pose these questions to everyone I know who supports the current president. "Can you remember a time in your personal history when there has been so much turmoil in our country? So much division? So much acrimony? Has there ever been a time when the nation's focus was so squarely on the president for so long?" Not even Nixon, as he was sent packing in relatively short order. The answer to that question overwhelmingly, after a brief glance up to the sky, has been "no." I wonder if "they" ever wondered why, as it seems so obvious. The answer is clear: Donald Trump happened. Yet, they don't seem to get it. Maybe, a little more of Joe Biden in their living room on a regular basis will do the trick.
On November 3rd, we can begin to back to normal. We can restore dignity to our country by simply replacing the man in the White House. It will take a man like Joe Biden for America to forget the criminal that is currently occupying the Oval Office. I honestly don't think just any man would have the ability to do that so easily. Joe Biden is everything that president trump isn't. In my opinion, there has never been an instance where this has been so important a transition. One which requires a 180-degree turn, an "about face." I believe Joe Biden is the man to do it. Donald Trump is a compulsive liar; Joe Biden is not a compulsive anything. Donald Trump uses bombast to deflect attention away from the real issues; Joe Biden addresses the issues. Donald Trump is a traitor; Joe Biden is a Patriot. Joe Biden Is a gentleman; Donald Trump is…fill in the blank. Joe Biden, heaven help us, will be our next president. I have faith.
Contact the Feature Writers