[AdSense-A]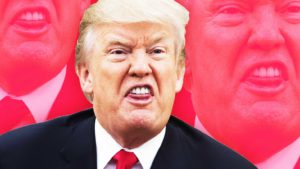 By Donald "Braveheart" Stewart
I teach English and when my young scholars are taught the idea of connotations, I use a sentence where the words politician and statesperson are used. Connotations are the implied meaning of a word…
I may live hundreds of thousands of miles from Washington but when my young kids hear these two words and I explain that a politician is Donald Trump and the statesperson who is Barack Obama, not one of them misunderstands. Given his promises this should not be the case…
When Trump was elected, he went to drain the swamp.
It was one of his major planks of public policy. It was understandable for the masses, fitted neatly into slogans to be used and could be chanted at rallies. Any resemblance to neo Nazi rallies of the 1930's was of course, coincidental.
But Trump knows how to play to a gallery. He knows which interest groups are on his side and which ones are to be mistreated and mistrusted. For those groups that misbehave – send in the storm troopers.
Then blame the oppressed.
Then you have to appeal above the heads of those organizations who are dedicated to find the truth – the news organizations. You take the faith that people put into the news stories and destroy them, talk about them, ridicule them so that you can talk unfettered directly to your people. You can make them understand that the only people worth listening to are you and your kith and your kin.
There are historical examples of this working really well.
People like Stalin, Hitler, Mussolini and others managed to manipulate the masses into believing anything they said, as long as they made the trains run on time, their country proud and great again and created a person to blame who was not white; not one of them, their own kind. No matter what their outlandish claims were, they were believed because they gave bread and they essentials economically to the poor – they kept the economy safe.
How can anyone who gave us something to eat rather than the immigrants who never paid taxes be all bad, the majority wonder.
The fact is that when Trump arrived in Washington, he didn't drain the swamp, he just changed the water. It is no longer the festering puss of corruption it once was. It is now far worse.
By playing above the heads of the media to the masses, by telling them that the people dedicated to finding out the truth are liars, then people are taken in by one news source – HIS news source. The nice orangery guy who told us not to trust these vipers that we never did and as for the whole think about masks – is it even American to wear one?
If any of this seems an absurd thing to say – get out and vote.
Three months to go and counting and remember one thing. There is a very clear warning for you in a saying oft quoted by the hated media…
Fool me once, shame on you.
Fool me twice, shame on me.
As such, my American friends, the world has put you on notice.
If you return your land to the land of the free and the land of justice and back on the road to equality then we can start to join that fight back in Hungary, Belarus, Brazil, Austria, Italy, France, the UK and so on. The chance is to make America great by being a beacon and not a weathervane, fluttering in the alt-right wind.
Three months…
Three months…
Contact the Feature Writers