[AdSense-A]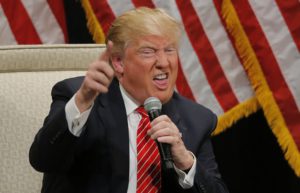 By Jo-Ann "Jo D NL" Duke
The diary scribblings of T4: Temper Tantrum Toddler Trump
Dear Diary,
I have been really good the last couple of days, I have come up with an idea of how to make sure that I win, I am getting everything fooled up with the post office, and the new boss is going along with me. He thinks my ideas are good. I have been thinking about changing the classes of mail, though honestly, it's all mail, how are their classes. Well, anyway, making all those nasty mail in ballots third class so it will take longer for them to get sent out, and so that all those people can't vote from home, and that way they won't vote for that guy Joe.
I mean, it's fine for me and the boring ones here to vote by absentee ballots, that's good; but it's going to be bad if all those people who probably don't normally vote decide to vote by mail in ballots this time. A lot of them didn't vote last time because they didn't get out to vote at the voting booths, but if they can do it from home, they might actually vote, and that would be really bad for me. Hee hee, why am I worrying, they all love me, they want to keep being president. I feel foolish for even thinking about that.
The new guy I put in charge of the post office group, well, the last few days, they have been taking some of the mailboxes off the streets, so there will be less places for people to mail their stuff, like you know, birthday cards, and oh yeah, the ballots for the election. I wonder why they started to do that, but oh well, as long as the absentee ballots get to the right place, I really don't care about the mail in ones, because they aren't real ones, cause people will cheat and send in fake ones, like I have been telling everyone, cause the mean people want to get that old guy Joe voted in. They must be crazy, to want him over me, after all, I am really perfect, what else could they want, right? I am the bestest, the smartest, just the most amazing man ever, how could they get anyone more good than me? They're just jealous because they can't do the job that I have done since the smart people voted for me and I got the job instead of that woman, no one could do what I have done, so there?
Well, buddy, I got to get back to my office, yay, not yay. It's so boring, all that information they keep trying to get me to pay attention to, and they keep talking all the time.
Love you,
Donny
Contact the Feature Writers