[AdSense-A]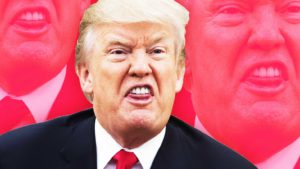 By Jo-Ann "Jo D NL" Duke
The diary scribblings of T4: Temper Tantrum Toddler Trump
Dear Diary,
Hey, buddy, it's me, Donny. I had another one of those meetings they call Roundtables, it was supposed to be about schools opening, I think that's the boring ones told me before it started. It's funny though because there wasn't even a table. There was me, Mike P, Kellyanne, and Betsy. We were sat on a stage, and on the other side of the room were a couple rows of people who were all there to tell me good I am, and how glad they are that their kids are going back to school, we even had a couple of teachers saying how happy they were getting back to school, and to be with their students.
I was confused though because not all the kids are going back full time, if they even go back; apparently some of the places are still doing that online thing, virtual learning. I was so mad when I heard that because I need the kids back in school, so that their moms and dads can go back to work. I need the people to be happy and be working so that they will say that I did a great job, and will vote me back in again; even if I really don't want to do the job, I still want to win, and it will prove that the people really like me; and they think that I am doing the job the right way.
I said that if the schools don't actually open up, then they shouldn't get the money, that it should follow the students, where they go. See, though I am smart, because if they don't go to another school, we don't have to send out the money, cause they will be learning at home. People will be happy that I am saving so much money, and we can use that money for something, I guess. I will let the money people deal with it. I just have to come up with the good ideas, I know, we can put it towards pushing out something to deal with Covid-19. Everyone is upset that people keep dying, so if I can get a cure out there, everyone will love me then and they will make sure that I keep being president.
Well, I am going to win anyway, because who could do a better job than I have since I got here. No one could do the job the way I have, because I am the best. I am so smart and good, that it's just so easy, I don't even have to really do any work. I just have to go out and just talk to people, and they love me. Well, the people at my rallies do, that stupid Covid-19 is fooling everything up; I wish it would just go away, then I could get back to my rallies, where my fans, voters, whatever, are always so happy to be in the same place as me.
Well, I snuck out of the boring room, to come and talk to you, so I have to get back. I swear, I can't get away from them, they find me everytime I try to hide away for a bit.
Love you.
Donny
Contact the Feature Writers