[AdSense-A]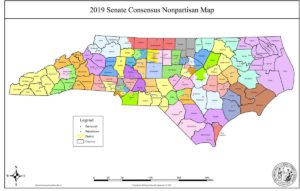 By Ron Signore
There are bias factors with everything in life. It doesn't matter if were talking sports, food, schooling (institutions) or more specifically to this focus, politics. If we think about it, we tie these biases to stereotypes more often than we would like to admit.
Some of these biases can lead to stereotypes in more of a jest fashion. Being from Chicago, I am indeed bias towards eating Deep Dish Pizza as opposed to New York Style Pizza. But as we get farther down the line on topics that regions may affect, the jest becomes less, and the tension becomes more visible.
For those of you who are huge sports fans… think about the actual tensions between people of different fandoms. Some fans have fun and just support their teams, rooting for their team as opposed to rooting against their teams. Think of environments at Cubs/Sox games, or Yankees/Red Sox, or any contest in the SEC for football, the tensions grow with a sense of pride to the team one supports. Maybe that pride is city, alma mater, or some variable condition that makes one a fanatic. As the stakes get more personal, that image all changes. Take someone who is an avid gambler. The gambler is most likely only a fan of their own money versus the actual outcome of a contest but let's take the gambler who gambles with their heart. They bet on the team they are a fan of, so now they are financially invested, which leads to emotional investment. Jest goes out the window.
If tensions can rise over something in the big picture being considered entertainment, they prove to skyrocket over actual examples that can be life altering. Specific to this point at this moment: politics. This is the most impactful and important election in the last 30 years. Unlike previous elections, tensions in this country are at an all time high. Granted 2016 really illustrated social media as a focal point for information in the decision between Trump and Clinton, the trend has exploded with this election.
Arguably, the use of social media has grown these tensions. Over the years, people maintained keeping their opinions to themselves on taboo topics. Comments on the taboo topic of politics were usually very general, if at all, and usually around either the status of the economy or impactful news surrounding our country. With the introduction of social media, every Tom, Dick and Harry has a platform to express their opinions with little to no consequence. Or so they think.
Assuming the use of these people's first amendment rights does not violate community, standards associated with social media platforms, there is no consequence as one would think. However, the arrogance and ego of these people blind the logic that the consequence is indeed with others they associate with. Friendships and relationships within families suffer from these platforms. The converse also happens where people look at what one puts on social media and "walks away" from that association because of the lack of respect they have for one's posted opinion. While I have discussed how over the years, we started seeing a divide in the country fueled by hatred and paranoia due to the agenda's of the mainstream media. However, one could argue that was just the fuse that was lit to the explosive and social media allowed for the damaging blast.
The ignorance that is perpetrated by this freedom can be painful to observe. It rivals in stupidity to that of people not wearing a mask because it is their right not to. From a more middle to left perspective, it becomes very easy to identify those MAGAts who prove to be clueless beyond a reasonable doubt. These people continue to spread the fear and irrationality that the far left is coming, and that anarchy and chaos will ensure, no matter what the topic. Topics have ranged from a very disturbing agreement to BLM being a hate symbol to being controlled by the government to wear a mask. It is indeed ridiculous.
In a positive light, it is also easy to spot out the friends of the Blue Wave. These people throw out satire in many cases to further the clarification on how low of an IQ our current president and administration is, thus how dumb his supporters are to what is really going on. Other cases call for the absolute bluntness of the wrong doings happening as a country within our government at the moment. Either way, they bring topics to light revolving the bettering of society.
One topic that lights up social media, the news and conversations right now in Chicagoland is Black Lives Matter. This is a topic that has me consistently trying to figure out not only what is going on, but what the resolution is. I have spent the last month going back and forth to Chicago. It is one amazing and beautiful city. Lately, a cloud of fear hovers above and the cloud is riddled with different perceptions of Black Lives Matter.
The first principle is that Black Lives Matter is this hope to not have to live in fear anymore to racial injustice, most targeted from police brutality. Most, hopefully all, of our readers know that the Black Lives Matter protests are peaceful demonstrations at heart. The core of those who organizing, and participating are exercising their rights to do so. So why the cloud of fear? These demonstrations have shown to have participants who have gone rogue from the initial intent of protest and erupt into more physical events and even looting. These events are happening in a few areas around the country and are magnified on the news outlets, though, they are far from a radical takeover the instills anarchy and chaos in our nation.
To be clear from my own perspective, I support the concept and peaceful demonstrations around Black Lives Matter. I believe in equality in all senses of the word and how it should be accepted in worldly living. I support the re-allocating of funds to de-militarize the police (which has confused so many because many STILL see #defund the police as dissolve the police). I support the police too. I openly believe that media has allowed to only show these negative events around law enforcement and not shown praise enough for the selfless acts of heroism they may perform on a daily basis. There is no argument that African American's have been oppressed for hundreds of years and have experienced sickening amounts of racism. There is no argument that there are systemic bouts of racism within law enforcement, where there is no place for racism. But I maintain that NOT EVERYONE IN LAW ENFORCEMENT IS RACIST just as I maintain that NOT EVERY AFRICAN AMERICAN IS A CRIMINAL.
This is one area where we are failing as a society. We really are making this too much of a black and white debate, no pun intended. One area where you support the BLM, you are right, where is if you support the police, you are a racist. I do not agree with that either/or choice. There is a lot of grey here that should be examined. While nothing will be perfect and aligning multiple views is nearly impossible, one view should be exploited and that is to do what we can to grow a world with peace. We are too much inside the bubble of "an eye for an eye," right now. With great reason and cause, many African Americans have a hatred towards whites and police. Again, the understanding is clear. But living in a world as "an eye for an eye," as the golden rule, just leaves the world full of blind men. Once the movement for BLM in Chicago turned to a state of war against police, that is where we need to start finding a message to pull back the aggression.
The misinformation and misunderstanding of what the BLM is trying to achieve amongst everybody, including the participants seems to be the core problem. Some citizens still believe that Defund the Police is nothing more than a desire for anarchy by those promoting it, which is the fear and paranoia spread through right-wing media. Citizens in the Chicagoland area who support BLM do not support the attacks on police or looting. Many protesters align with the key fundamental of peace. Criminal activity is not the path to justice. War is not the way to peace; we should not fall for that. Organizing looting efforts because the store owners have insurance, as one organizer last week in Chicago indicated, is not ok. That is like robbing a bank, but it is okay because the money is federally insured.
Too many lives are in danger. Some gravely as tensions and crimes escalate. Some from altered relationships that become more combatting on the way the country is run. I stand by a previous observation that no HUMAN BEING should have to live in unnecessary fear. African American's should not have to live in fear of our protectors and our protectors should not have to add unnecessary danger to their already dangerous job. The answer and resolution that I fathom is sadly the pie in the sky that is very reachable, but no one is putting their arms up to grab: peaceful existence. There is a hope that as we approach election time, definitions and proposals will be clear to how we start coming together racially without fear of our citizens or police officers lives.
As a parent, I do all that I can to protect my children. One fear we always have as parents is our children paying for our sins. In this case, officers who abide by their oath to serve and protect all as intended without fault should not be the target in a war scenario from the crimes of their predecessors. Some forget that police are not just police, they are people, of different races and backgrounds, with families and loved ones. I do believe in many areas police operate in a manner of respect; despite the noted negative events we see portrayed. And there are those of us who want the BLM to be successful in the reformation of equality and elimination of racism in law enforcement. However, those who look to inflict danger in violent criminal acts have no place helping resolve the problem, no matter what side of the line they are on.
Contact the Feature Writers