[AdSense-A]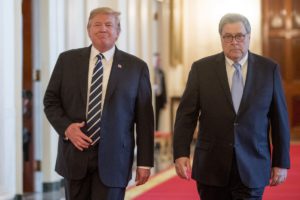 By Henry S. Villard
I have a friend who, some months ago, said (and I quote) "there is nothing inimical that can be said about Trump and his followers that isn't true," and that statement of fact has been borne our over and over again, innumerable times, since that statement was made. The latest total lack of decency and complete breach of ethics is below and I hope you will read it carefully because, in its early days, this type of behavior is exactly what Mussolini and Hitler and their followers did to and with anybody who disagreed with them or had the courage to point out their unending flaws. If you are still considering voting for Trump, and this doesn't finally change your mind, then—seriously—you are lost forever as far as decency and ethics goes in America.
Read this and weep (or puke, as you see fit):
Bill Barr Reportedly Pressed Rupert Murdoch To 'Muzzle' Trump Critic Judge Napolitano On Fox News
Mary Papenfuss (Huffington Post)
Attorney General William Barr met last year with media mogul Rupert Murdoch to pressure him to "muzzle" Donald Trump critic Andrew Napolitano on Fox News, according to a new book out Tuesday.
Napolitano's air time has dwindled as his criticism of Trump has increased over the last year.
Barr's meeting with Murdoch, the executive chairman of Fox News' parent company, at his New York home was widely reported at the time, but its purpose was not revealed. One aim of the meeting was to shut up Napolitano, according to the book "Hoax: Donald Trump, Fox News, and the Dangerous Distortion of Truth," written by CNN media reporter Brian Stelter.
Trump "was so incensed" by Napolitano's increasingly critical comments about him in Fox News broadcasts that he "implored Barr to send Rupert a message in person … about 'muzzling the judge,'" according to the book, reported The Guardian, which obtained a copy. Trump "wanted the nation's top law enforcement official to convey just how atrocious Napolitano's legal analysis had been," wrote Stelter, citing information from an unnamed source.
Napolitano, a former New Jersey superior court judge, reportedly told friends early in 2019 that he was on Trump's "short list" for the U.S. Supreme Court. But when news emerged later that year of Trump's phone call pressing Ukraine's president to launch an investigation into baseless accusations against Joe Biden, Napolitano called the president's actions both "criminal and impeachable."
The judge also said that much of what was found in an investigation by former special counsel Robert Mueller concerning Russian interference in the 2016 election was "also impeachable."
Barr's words "carried a lot of weight" with Murdoch, Stelter reports, though it's unclear how the pressure to silence Napolitano served taxpayers funding Barr's salary.
A daytime slot for Napolitano soon disappeared and he was carved out of coverage of Trump's impeachment, Stelter noted.
Fox Business host Maria Bartiromo would only book Napolitano to discuss non-Trump topics, because she would become too upset when he criticized Trump, a staffer told Stelter.
Napolitano still appears on Fox News, though in a more limited role. He recently harshly criticized Trump for sending federal officers into Portland to snatch residents off the streets, calling it a dangerous slide into totalitarianism. "There is nothing lawful or orderly" about the aggressive tactics Department of Homeland Security officers are wielding against people protesting racism, he wrote in a Fox News opinion piece. The agents' actions are "unlawful" and "unconstitutional," he wrote.
He has also blasted Barr as "Stalinistic."
From H. S. V.: Add this to "the list," that list exploding last night when it was revealed that Mary Trump, Donnie's niece, taped his sister, her aunt, Maryanne, a retired federal judge, who stated, unequivocally, not only that little Don has no moral compass but that he is a liar and is totally untrustworthy. Sadly, though (and more on this in coming columns), nothing will deter the remaining "42%" who, in their one topic loyalty to a corrupt liar, cheater, swindler, coward and traitor, can not be blown off with an atomic water cannon, and, as with the huge majority of the German people, will follow Herr Trumpler to the death. We will continue shortness. Stay safe, all.
Contact the Feature Writers