[AdSense-A]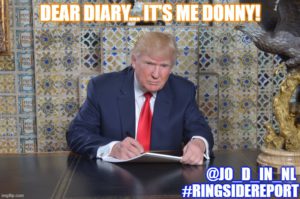 By Jo-Ann "Jo D NL" Duke
The diary scribblings of T4: Temper Tantrum Toddler Trump
Dear Diary,
Hey, it's me again… I am in that downstairs place, I think they call it the bunker! Well, anyway, I was up on stage giving one of my really goodly speeches, when the guys with the guns, you know, the ones who follow me all the time, like just got me out of the room with all the people who were there while I talked at them. Anyway, I found out why they did that. Some guy got shot outside of the fence around the building here. They told me that they had to make sure that the orange package, that's me, hee hee, they had to make sure I was safe. So, they kept me down there for a little while, and then once they had checked it all out, they let me go back to the room with the nosy people. That's exciting, right? I can only imagine that it was like cops and robbers, with the good guys getting the bad one. I guess he was there to see someone, and I guess the good guys stopped him. Well, the good guys won, yay.
Well, anyway, after I got back there, the nosy people kept asking me questions, but since I don't know anything, and the good guys didn't tell me what had happened, I did not have any answers for them. That's not right, I am the boss. I should know about everything. Well, I do know everything, but not about that bad guy, they didn't tell me, and that bugged me so much. How am I supposed to show that I am the bestest and smartest and all that, if I don't know what happened outside the fence. I will have to tell them that from now on, they have to tell me everything, so I can show just how smart I am. There, that's the plan…I won't look so foolish in front of the nosy people, when they are asking me about things like that. I don't like most of them, but they are always putting me on TV, so I have to put up with them. Even if they are fake news, I love saying that, because it lets them know that they can't be good like me. I only like them when they say something nice about me, but most of them are so mean, and they don't do that.
Thanks, buddy, for letting me vent, you are the only one who I say this to, love you, and bye for now.
Donny
Contact the Feature Writers