[AdSense-A]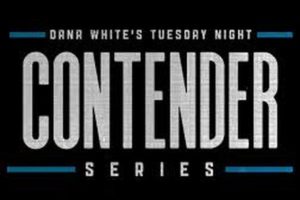 By Anthony "Zute" George
The first four weeks of DWCS have set a high bar. Indeed, those who passed the toughest job interview will now have to make it in the most significant combat sports competition on the planet. Still, they have already accomplished what most cannot even dream about. Who will impress Boss White this week? These were the matchups.
Collin Huckbody Vs Kyron Bowen (middleweights):
Collin came in with a size and reach advantage, as well as an impressive pedigree. Bowen had a solid boxing background who loves to strike from distance. Huckbody wasted no time utilizing his skills and size advantage and took the fight to the ground. The fight soon came to an end as Huckbody ended it with an arm triangle submission at 1:28 of the first round. A great way to impress the Boss.
Mike Breeden Vs Anthony Romero (lightweights):
Another matchup of striker, Breeden, against wrestler, Romero. Romero entered the fight with the larger cache, thus, the betting favorite, however. The smart money was indeed on Romero. He proved to be more than confident on his feet and secured a decision victory. Scorecards read 30-26, 30-27, 29-28 in favor of Romero. However, it was uncertain if Romero did enough to earn a contract as he failed to stop Breeden, despite being crucially debilitated from calf kicks. With that said, Romero did prove he had fantastic mixed martial arts skills.
Jeffery Molina Vs Jacob Silva (flyweights):
Molina had an edge in delivering the more powerful strikes in a competitive fight that saw all its action on the feet. In particular in the kicking department. Still, Silva could take it and was in the fight all the way. Silva suffered a horrific cut under his right eye from an accidental head butt in the third round. Still, it was Silva's best round of the fight. However, Molina secured a decision victory, 30-27 30-27 and 29-28. It appeared that Silva won the third round, but two judges disagreed. Dana White gave both fighters a standing ovation at the end of the fight. Jeffery Molina told Dana White he broke his foot in the first round.
Alejandro Flores Vs Rafael Alves (featherweights):
In a might that pitted Mexico against Brazil, Alves bought the robust cache into the fight with much more experience than his Mexican foe. He also appeared to be the more powerful striker. Still, Flores fought the first round as if he were built to last. However, when the fight went to the ground, Flores could not defend against Alves' guillotine choke. Securing a decision victory for Rafael Alves at 2:55 of the second round. Alves seemed more than ready for UFC competition. With that said, he will be facing much more experienced fighters if awarded a contract.
Jamie Pickett Vs Jhonoven Pati (middleweights):
Pickett was fighting for his third chance at a UFC contract against a rough customer who has shown he has more than one path to victory. On occasion, that dynamic can compensate for the experience that Pati was giving away to Pickett. Pickett also had a five-inch reach advantage in his column. As a southpaw, Pickett wasted no time in getting his right jab going. Soon after, Pickett took Pati to the ground but could not get much done. The fight got to the feet momentarily, but Pati slammed his way into a compromising position. Pati defended against the guillotine choke from Pickett, although it got dicey for him. As the fight got back on the feet, Pati appeared to get the better of the battle, but it was close.
In round two, Jamie Pickett took his faith into his own hands and let his fists fly. Behind that long reach, Pickett delivered a two-handed attack and blitzed Pati. Pati went crashing to the ground, forcing a stoppage at :33 of round two. Three times did the trick for Pickett, and his powerful two-fisted attacks undoubtedly earned him the elusive UFC contract. Perhaps Pati deserved a chance to recover, but it would not matter in the decision.
Who made the cut? The following winners were chosen by Dana White:
Collin Huckbody
Jeffery Molina
Rafael Alves
Jamie Pickett
As expected, Anthony Romero's inability to finish his opponent cost him the UFC contract. But Mr. White did say he expects to see Romero compete in the UFC in the future. As well as Jacob Silva.
When will we see these fighters compete in the UFC, and against who?
Stay tuned…
Anthony "Zute" George is the Author of Tough Man: The Greg Haugen Story, a new boxing book that covers the skilled champion from Auburn, Washington, as well as the scope of the times during his days of pugilism.
Purchase your copy from Amazon.
Purchase your copy from Barnes & Noble.
Contact the management team