[AdSense-A]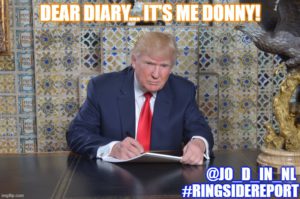 By Jo-Ann "Jo D NL" Duke
The diary scribblings of T4: Temper Tantrum Toddler Trump
Dear Diary,
It's me again, and the stupid other party, are having their big party, and they are going to say that they want Sleepy Joe to be their candidate for president, can you believe that? What could he do, does he think he can beat me, and win, as if? I love saying that, I remember all the fun back in the 80s, well, what I can, hee hee. That was a really good time, all the parties with my friends, but I don't get to do that now, thanks to this boring job. I don't really want it, but I have to win, because that will prove that more people like me than they do Sleepy Joe. How could they like him more, after all, he's not like me, and he couldn't do what I have done since I have been here in this big white place.
It's so good because my people, the ones who come to my rallies, when I could have them, that is, they want me to be the boss, so they will make sure that I win. Anyway, my friends and the people who give me money for the election, you know, right. They are helping me make sure that I will win the contest, because they know that they won't have anyone to help them out, like I do. That other group won't be nice to them the way I am because they are not their friends, and I am, and I do nice things for them.
Anyway, I don't have to worry because I am the best person for the job, because my special friends will help me, they won't do that for Joe and that nasty woman, Kamala, because they have told me that they don't like them, that I am the best person to be here. Like they keep telling me, no one else has ever done so much to the American people like I have, and that's why I will win again, because I am the person who deserves to be here, because I will listen to them. They told me that they know that those two people won't do things like I do. So I have to win, and keep doing the amazing job I have been doing since I got here.
Well, that feels better, now that I got a chance to get that out, it's so hard being me, and being so perfect all the time, it really takes a lot of time and I have to do so much to be so good, but I always do my best, just because I have to make things just right, like my friends have said, and everyone loves me, so I must be doing a good job.
Bye, buddy, love you, talk to you later.
Donny
Contact the Feature Writers