[AdSense-A]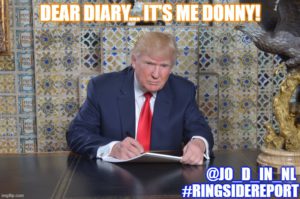 By Jo-Ann "Jo D NL" Duke
The diary scribblings of T4: Temper Tantrum Toddler Trump
Dear Diary,
It's me, Donny, and I just wanted to say hi again. It's so funny because I heard a song today, and I think it was written all about me, it was so true, it was scary. It really is hard to be humble when you are just so perfect like me. I have to find out who wrote that song, there must be some way for me to get paid for it; after all, it has to be about me, because no one else is as absolutely as perfect as me. Like the song said, I do get better looking everyday. I love it, because either everyone wants me, or wants to be me, because like the song said, no one can be as good as me.
I am so happy that people can see this, they must, right, because they wrote a song all about me. I decided that they have to give me something for using me to write the song, and have it be so popular, which if it's about me, it would have to be. Not that it's a surprise. After all they picked the best person to base it on, me, hee hee. Now I just have even more proof of how great I am. Normally, I don't like that kind of music since it's the kind that those people who vote for me seem to like, ick; but this is good, because of course, it was about me, which makes it the best. Hah, take that, Sleepy Joe, see, no one is writing a song about how perfect you are. I am the king, wee.
Well, DD, I got to go for now, talk to you later. I have got to get back to "work", yuck.
Bye, love you.
Donny
Contact the Feature Writers