"Randy's Ringside" On Ringside Report
[AdSense-A]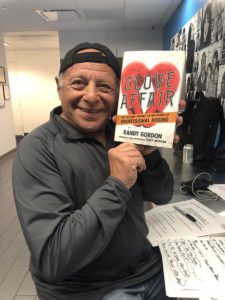 By Randy "The Commish" Gordon
A few days ago, I was sitting poolside, socially-distanced from a few boxing friends I had invited over. The talk turned to upcoming matchups: Jermall Charlo Vs Sergei Derevyanchenko; Jermell Charlo Vs Jeison Rosario and Vasily Lomachenko Vs Teofimo Lopez. Other matchups came up: Tyson Fury Vs Deontay Wilder; Anthony Joshua Vs Kubrat Pulev and Daniel Dubois Vs Joe Joyce.
While I love playing the "I can't wait for the so-and-so fight" game, I also like making up fights which I haven't heard others talk about. So, during a lull in the boxing action, save for a one-sided beatdown of Jeff Horn by Australia's young superstar, Tim Tszyu, let me throw 10 fights, in no particular order of my favorite, your way.
1. Artur Beterbiev Vs Joe Smith, JR.—How much action could one fight have? There is no fight—in ANY division, which could match up two megaton hitters against each other. Beterbiev is the unbeaten IBF Light Heavyweight champion. He's had 15 fights and won all 15…all by knockout. Smith is 26-3, 21 KO's. Who cares about the IBF belt here. Or any belt, for that matter! I want the fight for the action it'll deliver, not for the fact an alphabet organization will sanction it as a title fight. Both can punch with either hand. Both can—and have—been hit. What do you think the Over/Under on this one would be? Two rounds? What would the Las Vegas odds be on this one going to a decision? 100-1? 200-1? 500-1? There can't be any more exciting matchup to be made than this one!
2. Terence Crawford Vs Josh Taylor—OMG! Two of the very best southpaw in the world against each other. Two unbeaten boxer/punchers against each other. Taylor is 16-0 with 12 knockouts. On September 26, Taylor will defend his WBA & IBF Super Lightweight Titles against unbeaten (16-0) Thai fighter Apinun Khongsong. Taylor should have little problem against the inexperienced Thai (who has faced only nine fighters with winning records)! After the victory, Taylor will most likely announce he is moving to the welterweight division. Crawford did it. Danny Garcia did it. Taylor can do it, too. Bring on Crawford and his 36-0, 27 KO's. This is a matchup made in Boxing Heaven!
3. Gervonta Davis Vs Ryan Garcia—At 25 years of age, and with a record of 23-0, Davis claims he is the best 135-pounder on the planet. At 22 years of age, Garcia, with a record of 20-0, claims he is the best at that weight. Okay, let's forget there are a few other lightweights named Vasily Lomachenko, Teofimo Lopez and Devin Haney. What matters here is Davis v Garcia. I care not about what belts are at stake and the aforementioned fighters who are probably better than either Davis or Garcia. What matters is the matchup. Davis v Garcia. Garcia v Davis. Boxer Vs boxer. Puncher Vs puncher. Speedster Vs speedster. Garcia has Luke Campbell in his near future. Davis has Leo Santa Cruz lined up on October 24. It is a fight Davis will most likely win. Garcia will almost-aqs-likely beat Campbell. Then, let the talk stop. Let's make Gervonta Davis v Ryan Garcia happen. Two talented, cocky kids against each other. Great theatre. Great entertainment. Even a greater fight!
4. Canelo Alvarez Vs David Benavidez—Canelo is the face of boxing…The Red-Headed Mexican. Forget what the alphabet soup boys say. He is the Middleweight Champion, the Super Middleweight Champion & the Light Heavyweight Champion. Yes, he picked on the weakest link in both the Super Middleweight & Light Heavyweight divisions in order to win his titles there, but the fact is, he beat them both and he pulverized both. Canelo says he doubts he can make it down to 160 pounds any longer, and it's foolish for him to go after Artur Beterbiev or Dmitri Bivol.
So, let him stay at 168. We've talked about Callum Smith for him. There's just no drool over that fight. The same thing for bouts against Danny Jacobs (whom he has already beaten) or Billy Joe Saunders. Are you salivating over a Caleb Plant matchup? I didn't think so. Okay, let's let David "I Missed the Weight Last Time" Benavidez have another try at 168 pounds. Blame it on a lack of gym work because of COVID-19. The WBC can call it a fight for their vacant title. But, again, who cares about alphabet soup titles. Are you not going to watch a Canelo Alvarez-David Benavidez fight if it's a 12-rounder (or even a 10-rounder) with no belt attached? Believe me, you won't boycott the fight. Let's make this one happen before Benavidez moves to 175 for good.
5. Deontay Wilder Vs Oleksandr Usyk—I would like to stop thinking about Fury and Wilder, Fury and Wilder, Fury and Wilder. I was at their first two fights. I thought Wilder would win both. He didn't win either, but that's for another column. So, I'd like to see Wilder move on. On where? To Dillian Whyte? To Alexander Povetkin? Nah, they had an interesting first meeting, now are planning to do it again. The one heavyweight who makes perfect sense for Wilder is unbeaten in ONE heavyweight fight. He's also unbeaten in 16 cruiserweight fights. That man is the former undisputed Cruiserweight Champion, as well as the former Ukrainian Olympic Heavyweight Gold Medalist (2012) Oleksandr Usyk. He is a veteran of over 350 amateur bouts, of which he lost only 15. After winning the World Boxing Super Series Ali Trophy in 2018, he made one more defense of his unified cruiserweight title before moving to heavyweight in 2019, stopping last-minute replacement Chazz Witherspoon in the seventh round.
While Usyk stands 6'3" and would be giving away four inches in height and several inches in reach, he now weighs around 225 well-sculpted pounds, which would be about the same as Wilder. Plus, Usyk's boxing IQ is among the tops in the game. It would be interesting to see if Wilder could figure out the constantly-moving, boxing and quick-thinking Usyk to land his vaunted right cross or powerful left hook. It's a very interesting matchup, one which is certainly more interesting than seeing Fury-Wilder III.
6. Amanda Serrano Vs Katie Taylor—The six-division champion Serrano, 36-1-1 wasn't wrong in turning down a fight against Katie Taylor, who recently upped her record to 16-0, with an impressive and hard-fought 10-round decision against Delfine Persoon. Serrano objected to facing Taylor in the United Kingdom, as well as having to earn less money because of no live crowd being allowed to view the fight. This one deserves to be watched, not just on a pay-platform, such as DAZN, but in front of a live crowd, as well. This one should have a level playing field. It's more than just a fantastic matchup between two great females. It's a great boxing matchup, regardless of gender. Level the playing field. Make this one happen!
7. Demetrius Andrade Vs Jaime Munguia—Andrade is the WBO Middle- weight Champion. He is 29-0, 18 KO's. He is quick, slick and a master. Could he hold his own with Canelo Alvarez, GGG or Jermall Charlo? There's no question in my mind he could. In Jaime Munguia, you have a 23-year-old power-punching Mexican who, just two years ago, was turned down by the California State Athletic Commission as an opponent for GGG. So, what happened? Veteran Vanes Martirosyan was put in against GGG, and was blown away in the second round.
The next week, Munguia was approved to face Sadam Ali by the Oneida Nation Athletic Commission at the Turning Stone Casino, as Ali was seeking an opponent to defend his WBO Super Welterweight Title against. Guess what happened? Munguia destroyed Ali, knocking him down four times and taking his title via a fourth-round TKO. Since that time, Munguia has fought six times, winning all the bouts, three by knockout. Included in those six bouts was his last win, an 11th round stoppage of Gary O'Sullivan in a middleweight bout, which Munguia says will be the weight he stays at—unless his young body tells him it's time to move up again. At 6' even, he has the reach and power of a top middleweight. He has been working hard on his boxing, especially on his defense and on shortening his punches. Andrade is as tall as Munguia, but not nearly the single-shot hitter Munguia is. And, like Munguia, Andrade has grown, over the last two years, from a Super Welterweight into a full-fledged middleweight.
We keep hearing Canelo Vs GGG again. We keep hearing Jermall Charlo against this middleweight or that one. Andrade Vs Munguia.
It can't get more exciting than this.
8. Naoya Inoue Vs Luis Nery—Inoue is 27 years old. He is 19-0. Sixteen of his opponents have failed to survive until the final bell. He is called "The Monster." Luis Nery is 25 years old. He is 30-0. Twenty-four of his opponents have failed to survive until the final bell. Nery has stopped his last 11 opponents. At 5'6", Nery is tall for a 118-pounder. That's one-inch taller than Inoue. Inoue is a righthander. Nery is a southpaw. Nery is It would be a shame if these two incredible bantamweights, unquestionably the best the division has seen in years, don't get to test each other. Hopefully, 2021 will get to see Inoue face Nery. Or, if you prefer, Nery will get to face Inoue.
9. Ivan Dychko Vs Daniel Dubois—We know about Daniel Dubois. He is young (22), tall (6'5") and unbeaten 14-0, 13 KO's. On August 29, he will most likely go to 15-0 with a victory over 18-1 Ricardo Snijders of the Netherlands (who has only faced nine opponents with winning records). Dychko, however, is scary. At 30, he is ready to make his move onto the international scene. A Bronze Medal winner for Kazakhstan in the 2012 Olympics (a close decision to eventual winner Anthony Joshua), Dychko is 6'9" and a chiseled 240 pounds. He is a crushing hitter with both hands. We know he can fight. Can he fight—and win—at the highest level. You just know that, while you may know nothing about Dychko now, the chances are great that next year at this time, everybody in boxing is going to know who he is. Dychko v Dubois. The heavyweight firepower we'd see that night is mind-boggling!
10. Emanuel Navarrete Vs Gary Russell, JR.—Mexico's Navarrete is a 122-lb powerhouse who wants to move from Super Bantamweight to Featherweight. He's just 25 years old and already 31-1, 27 KO's. He is one of boxing's most-exciting fighters, tossing close to 100 punches per round. I'd love to see him face boxing-talented, charisma-lacking Gary "Once a Year" Russell Jr., the 31-1, 18 KO's Featherweight Champion. The speedy, non-talking Russell, JR. against the punching machine named Navarrete.
That's my list of the 10 fights I would love to put together and watch. What are yours?
Give me your picks by using the form box below.
I just may put your choices for terrific matchups into next week's column.
Randy "The Commish" Gordon is the Author of the hit book, "Glove Affair". Order your copy by clicking HERE.
[si-contact-form form='2′]