[AdSense-A]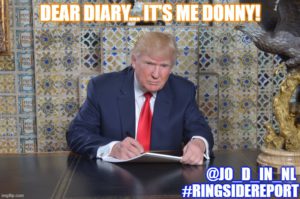 By Jo-Ann "Jo D NL" Duke
The diary scribblings of T4: Temper Tantrum Toddler Trump
Dear Diary,
We did it. We had our big party, it was for four nights, it was so good to hear all the people saying so much great stuff about me, but, really, why am I surprised? It is me that we are talking about, I am so great that of course, they all would be so nice to me, right? I am the best, the greatest ever. It still felt good when they would start saying four more years, I know for sure that they want me to stay. I kinda feel sorry for Sleepy Joe and that woman, because they are going to look so foolish when I win, and so big at that.
I don't know how they think that they could beat me, I am the most loved president ever, everyone wants me back again, to finish the job I started; and you know, DD, they could never do any of the things I did, no one could, hee hee. I am so special, I am one of a kind, so no one can copy me. Of course, they wish they could, but no one can be like me. I can't wait to rub it in their faces, when all my fans help me win, because they love me so much, it's almost like they think I'm their god or something like that. They believe whatever I say, so I can say whatever I want, and none of them will ever disagree with me.
It's so good to be me, but I have to act humble, why, I don't know. The boring people who are working to make sure I win, they say that I have to be nice, and not say things without proof, but where's the fun in that. Anyway, when I make my comments, my people go crazy, and they eat it all up like a real nice dessert. I can do what I want, say what I want, and they don't care, it's so freaking cool.
Well, DD, got to go for now, I have to go back to that office, so they can bore me some more. Talk to you later.
Love you,
Donny
Contact the Feature Writers