[AdSense-A]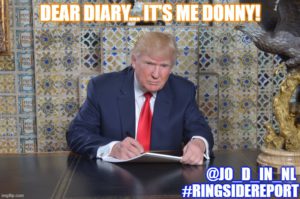 By Jo-Ann "Jo D NL" Duke
The diary scribblings of T4: Temper Tantrum Toddler Trump
Dear Diary,
It's me again. Can you believe what those meanies at Twitter did to me again. They took down my retweet of that Mel Q person who said that only 6% of the people actually died from Covid, so only about 9000 people instead of all those other people who make up those high numbers, something like almost 188 thousand people dead. I am so mad at them, how dare they do this to me, I finally have proof that I was right all along. I know why they did it, it's because they don't want me to win in November.
You know why they did this, and now everyone will see that they are all jealous of me, because see I was right and everyone else was wrong, so take that, all you stupidheads, especially those doctors at the CDC, who all think they are so much better than I am, and smarter. Which is so stupid, right, no one else is ever going to be as smart as me. I knew that it wasn't as bad as they all said, but they don't want to admit it. They are so jealous that I was proved right and they were wrong. I want Twitter to admit that I was right in what I was saying, and they deleted my retweet, because they don't want to have to admit that I know more than everyone else.
They are so stupid, I almost want to stop tweeting and retweeting but if I do that, how are all my fans and followers going to get to know what I am saying, because you know they depend on me to tell them what to think; that they believe everything I say, because of course, like always, I am right, and they don't need to think for themselves, just do what I tell them. They are the ones who are going to help me win the big contest coming up.
Thanks, buddy, for letting me vent. I feel so much better now, after talking to you, because you are my one true friend, the one who always believes me and in me. Well, got to get back, and pretend to be interested in what the boring ones want to talk at me about again, oh well, I gotta do what I got to do, you know, right.
Bye for now, love you.
Donny T.
Contact the Feature Writers