[AdSense-A]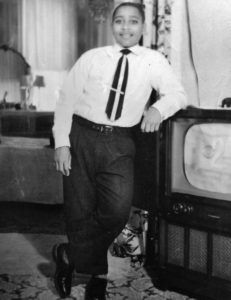 By Marlena Ryan
Friday, August 28th, was the 65th anniversary of the murder of Emmett Till. Of the few black people, I learned about in elementary and in high school, Emmett Till was never one of the names mentioned in my history books. I had not learned about his story until two years ago, but I now feel it is one which every person should know about. Why is his story important now? While many things have changed over the last 65 years, some things have remained the same.
Emmett Till was 14 years old. He lived in Chicago, Illinois with his mother, but had traveled solo to Mississippi to spend part of his summer with his extended family. According to court documents, on August 28, 1955, Emmett Till stopped by the Bryant Grocery store in Money, Mississippi to purchase some candy. It was alleged by Carolyn Bryant, a white, female store clerk, that Emmett Till grabbed her forcefully, used vulgar language, and verbally threatened her, leaving her feeling "scared to death". After the event, Emmett Till was kidnapped by two white men, Roy Bryant, the husband of Carolyn Bryant, and J.W. Milam, the half-brother of Roy Bryant.
The men took Emmett Till in the middle of the night from his uncle's house where he had been staying. Emmett Till was horrifically beaten until he was unrecognizable, then shot before being tossed into the Tallahatchie River with barbed wire attached to a cotton-gin fan placed around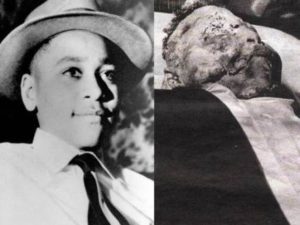 his neck to weigh down his body. Emmett Till would later be found dead three days later. When his body was brought back to Chicago for the funeral, his mother chose to have a public funeral with his casket open so that people could see what had happened to her son. The pictures were featured in Jet Magazine and also in newspapers. The first time I saw these pictures, I cried.
The photos of Emmett Till's disfigured face not only shocked people, but also moved many, black and white, to get involved with the Civil Rights Movement. Still, the two white men who were accused of Emmett Till's murder maintained their innocence and were later acquitted by a jury of all white men. Fifty-two years later, Carolyn Bryant, who was later known as Carolyn Bryant Donham, admitted to Timothy Tyson, a Duke University Professor, that she had lied about Emmett Till making verbal and physical advances towards her. And at the age of 72, she said that she could no longer remember exactly what had happened on that August day in 1955.
In 2007, a memorial sign for Emmett Till was placed along the Tallahatchie River where he had died. A year later, the sign was stolen and was never found. In 2016, the memorial sign was vandalized, being riddled with over 300 bullets before being taken down. In 2018, a new sign was put up near the river, and a month later, three University of Mississippi students posed in front of the sign with guns. The memorial was again found damaged with bullets. A new memorial sign made with reinforced steel was scheduled to replace the old sign in 2019. And the National Park Service was also considering making the sites related to the murder of Emmett Till along with other Mississippi based civil rights spots national park areas. Doing so would mean that destroying any of the memorials would be prohibited by federal law. Federal funds could also be used to buy cameras to monitor these important sites.
While the three students from the University of Mississippi were suspended, the memorial sign for Emmett Till, the area where this 14-year-old black boy was murdered, is still not a national park and therefore still not under federal protection. The memorial sign could potentially be vandalized again. Trump signed an executive order back in June of this year, protecting federal monuments and statues, calling for law enforcement to prosecute anyone who destroys or vandalizes a monument, memorial, or statue to the fullest extent of the law. Sadly, these protections do not extend to the memorial for Emmett Till nor to several other civil rights memorials. Clearly, they are not of importance to the current administration.
In February of this year, 120 years after it was first considered, Congress approved legislation making lynching a hate crime under federal law. The Senate also unanimously passed the legislation in 2019. The bill was renamed for Emmett Till in February of this year and returned to the Senate where it is currently being held up by Senator Rand Paul. It is Senator Paul's belief that the bill as it was written is too broad and would allow any altercation to be labeled as a lynching subject to a 10-year penalty.
The Republican National Convention spent nearly a week trying to convince Americans that our country is not a racist country. I cannot help but question this claim when memorials for people of color can be vandalized with little consequence and lynching is still not considered a hate crime under federal law. I question this claim when Chris Cooper, a black man bird watching in Central Park had to use his cell phone to protect himself by recording Amy Cooper, a white woman who called the police falsely claiming that "an African American man" was "threatening" her and her dog. In 1955, Emmett Till was murdered because a white woman thought a 14-year-old black boy tried to make a pass at her. The vigilante justice that took place then is still happening today. On February 23rd of this year, Ahmaud Arbery was chased by three white men while he was jogging down a street in Brunswick, Georgia. Two of the men hit Arbery with their truck then one shot him. The men left Arbery dead in the street. They believed that Arbery was responsible for thefts that had taken place in the area. While much has changed, it is troubling that black people are still facing some of the same prejudices that they faced 65 years ago. If Republicans truly want to claim that we are not a racist country, there are still great changes that need to be made.
Contact the Feature Writers