[AdSense-A]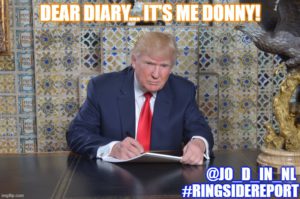 By Jo-Ann "Jo D NL" Duke
The diary scribblings of T4: Temper Tantrum Toddler Trump
Dear Diary,
Hey buddy, it's me again, it's those stupid nasty people at all the fake news stations, and they are saying that I am not leading in the polls for the stupid election, even after my absolutely amazing speech at the big party, you know, where they told me that I was going to be the real candidate for the good party, you know, the Republicans. They are printing these fake polls where it's saying that the old guy, Sleepy Joe, is really far ahead of me, that people want him as president. That's crazy right, how could that be real.
Everyone knows that I am the best president ever, how could they say that they would want him, when they can have me, it's nuts. I'm not worried though, because like I said, it's only the fake news, and they just hate me, they always want me to feel bad. They think they are so smart with all of their so-called experts saying all those bad and nasty things about me, but none of that is true, they are so jealous of me, everyone has always been so jealous of me, because I am so smart, rich and handsome too. They can't be me, so they are trying to make me feel bad, and think that I will lose the election, and that the other side will win, like as if, right.
That can't happen, because they will wreck all the good things I have done, and then my followers, they will be mad, because I promised that they wouldn't have to go back and do things the way they did before, because it cost them too much money. They were so happy when I just started pulling all those so-called important regulations out, and letting my people do what they want, and not having to worry about getting in trouble, or having to pay money out like they used to have to do. They will make sure that I win, because those other ones, you know, SJ and MK, they will not keep doing things the way I did, so they definitely don't want them to win, you know. They know how good they have it with me in charge, and don't want that to change, so I am good, don't have to worry at all, hee hee.
Well, DD, back to Boresville for me, why can't I have some fun while I am in that office, they are always so serious, and they expect me to be the same way, gross. Talk to you later, bye for now.
Love you,
Donny