Marjorie Taylor Greene, Georgia's QAnon Congressional Candidate, Holds Gun Alongside Images of Current House Congresswomen
[AdSense-A]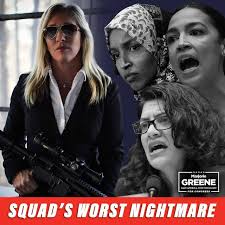 By Nikki Slusher
House congressional candidate Marjorie Taylor Greene (R-GA) has come out with a new ad – and to be quite frank, it's downright weird. On Thursday, she posted on her candidate Facebook page a picture of herself holding a gun next to images of Democratic Reps. Alexandria Ocasio-Cortez, Ilhan Omar, and Rashida Tlaib. She also encouraged going on the "offense against these socialists." She captioned the post adding: "We need strong conservative Christians to go on the offense against these socialists who want to rip our country apart." Facebook has already removed the post, stating it was in violation to the policies of the social network.
Marjorie Taylor Greene recently won the Republican primary in a prominent conservative district in Georgia. Endorsed with support by President Donald Trump, she is also the first candidate to be so open as a self-titled believer in the QAnon conspiracy and would be the first to be in Congress if elected. Her previous social media posts also reflect a history of Islamophobic and bigoted comments.
Rep. Ilhan Omar responded on Friday to the posts. Omar, who along with Tlaib are Muslim, called the posts Greene's way of creating "incitement" and demanded that the post was removed for "violent provocation." The Minnesota Democrat posted on social media: "Posting a photo with an assault rifle next to the faces of three women of color is not advertising. It's Incitement." She also added, "There are already death threats in response to this post. Facebook should remove this violent provocation."
Greene's team responded to the media through an emailed statement. The campaign said that anyone who believes the post incites violence "are paranoid and ridiculous." Backwoods Barbie is playing games just as we thought she would. Her memory is short, but ours is not. Her previous posts she had received backlash on were involving a Facebook post where she claimed that Muslims do not belong in the US government and the elections of Reps. Omar and Tlaib were the start of "an Islamic invasion into our government offices," along with many other bigoted remarks.
Greene had also attacked the congresswomen in another post in the past few days. "Hate America leftists want to take this country down," the Facebook post read. She concluded: "Politicians have failed this country. I'm tired of seeing weak, Establishment Republicans play defense. Our Country is on the line. America needs fighters who speak the truth." When recently asked about her infamous beliefs on "Pizzagate" and that Charlottesville was an "inside job," Marjorie Taylor Greene now says she has "choose another path" after encountering "misinformation."
It is easy to see why the President and Greene support one another. Both are loudly outspoken, compulsive social media posters who show the rise to a new form of insanity into the political atmosphere. Don't forget she went from hated to homies with Kevin McCarthy and the rest of the Republicans in D.C. After her primary win, they decided that she would be "welcomed" and expect a big win. We see where the country is at, we do not need to add another clown to the circus. Georgians – please do the rest of the country a favor and keep this one for yourself.
[si-contact-form form='2′]