[AdSense-A]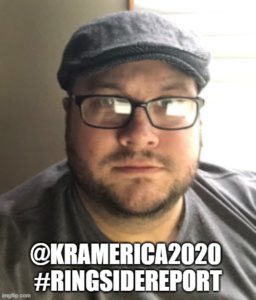 By Ron Signore
My writing is usually based upon emotion I cannot get out. More specifically, the negative emotion I tend to let fester until I can get the vision to gather my thoughts. Truly, one may never guess that I am a fairly positive person. A realist without doubt, but mentally try and prepare to have a positive outlook.
This is somewhat of a different piece. None of you really know who Ron Signore is outside of the Cheeto Man hating, MAGA dismissing liberal that expresses disdain for where our great country is at the present moment. This is a little biopic during this current era guided by COVID.
I had moved to Columbus, OH for an opportunity to manage a branch of a tech company in 2019. The last quarter of 2019 had me absolutely miserable. I do not place the blame on everyone but myself. There were some things that I created my own unhappiness with. I had never dreaded going to work, and I loved what I did not only in leadership, but also the industry I had basically spent 10 years to that point. But with the arrival of my third child, my son, I knew I didn't want to miss things I maybe missed with my other two children growing up. The work ethic my parents instilled in me always allowed me to rationalize I was sacrificing for my family to have more. After some deep reflection, I resigned my position on January 2nd with no intention to look back.
I took a trip to Prague a few days later. The week away from the familiarities of unhappiness worked wonders. Incidentally, Tuesday January 7th in Prague, I had my last drink to date. No reason why other than an effort to be more healthy. Lord knows I love a good beer or even a good whiskey (I do not really discriminate against scotch, bourbon, Tennessee, etc…). While I rarely drank, I still enjoyed.
The decision to start work with a company that an old colleague, and dear friend, referred me to was a path I had elected to take. Headquarters for the US is in Chicago, so there were a few weeks up until the original quarantine orders came to fruition. Training was not a negative, in fact, being in a new industry was very intriguing. This role with this company even allowed me to have the flexibility to be home with my father for an "-ectomy" surgery needed after a cancer diagnosis. I was already starting to see a positive impact on family and work life balance.
We had gotten to March, and able to see some family for my oldest daughters birthday just prior to the official lockdown orders. Openly, the paranoia for myself was high with regards to the Coronavirus. Having the flu twice in the past 10 years, both times evolving to pneumonia, I was shaken. What was this pandemic going to do to our country? Our families?
There were two choices: partake in the constant complaining and battles that still go on today over the virus or make the best of what's around. I chose the latter. In fact, my journey was just beginning.
There were aspects of my life I truly wanted to improve. For one, my health. Already losing the empty calories from the absence of alcohol, I decided to focus on becoming much healthier. I started making very positive choices in my diet. It was not a strict Keto or popular diet people would inquire about. I just made good choices on what and how much I ate. I still had carbs. I tracked everything and did what I could to stay under a certain caloric intake per day. Within a few days, I started feeling a little better, a little more energetic.
It was time to start adding in the physical activity. Knowing I work from home, and admittedly paranoid of stepping outside of the house (no exaggeration, I am a baby wrapped in fear with this thing) I use my Amazon App for good as opposed to evil. I ordered a stepper, found my weights and kettlebell, ordered a yoga mat, and no joke, the Biggest Loser workout DVDs. I gradually worked from one to two work outs at a time to full DVDs. Building up endurance and strength with a combination of high and low intensity workouts, the first 10 pounds melted off. That is always the quickest. What else was I going to do though? I had work, the kids had school now at home, options for a variety of activities was not exactly present. So, I pushed harder and harder. I hit my first plateau at 20 pounds down. It felt like I spent forever at that milestone. Within time, I conquered it and to this point in time, I am down about 50 pounds. I keep building strength and endurance adding longer and more intense activities to my exercising.
During all this, I began popping onto Twitter again. If anyone checks my profile, they will see prior to this pandemic, I maybe had sent 50 tweets in the 10 years I had an account. Honestly, I didn't even really get how Twitter worked, and arguably still don't. I had no interest. But then my uncle sent me some tweets via text from some very popular resisters blasting our current leadership and many with some comedic relief to the matter. I had seen someone I followed advertise they were looking for writers (guess who) so I inquired. I love writing. I love getting my thoughts down. I love controversial topics, or controversies within topics, so, writing about politics or debating someone in an area of life I may have a conflicting opinion sounded fun. I inquired and here I am today. I openly thank "Bad" Brad Berkwitt for the ability to participate and grow his platform in Ringside Report. This has been a growing activity in my life that honestly helps bring some serenity to my mind.
The unknown of this thing still echoes the country. When will the pandemic end? How will this affect our careers, families, and friends? Will there be sports? Either way, making the most of this became an early intention, and that's what I am still doing. A little over a month ago, I started following and investing in the stock market. I only knew the basic principle of buy low, sell high. In addition to the books I have ordered to learn more about my new industry for work, I have ordered several books on how to invest, day trade, swing trade, options investing, understand technical and fundamental analysis. With the pandemic, I chose not to umpire baseball and softball, so making a little extra scratch on the side was necessary. Besides, it is like gambling, which is limited this year with the absence of sports.
While not getting out to umpire, which brings me joy and serenity from my daily stress from the perfection I strive to in my professional world, I am glad I found a hobby that requires some intelligence to practice. I look back at this time and really have found three things that have been hard: struggle to see family, political battles with the right-wing morons, and uncertainty to the future. The rest of it as it pertains specifically to me is all noise. The mask wearing does not bother me. Not eating at restaurants does not bother me. I chose to take what I could from the lemons the world seemed to give and mixed it with vodka to get a more pleasant result. Numb to the negative, hydration to endure the positives. I can honestly say this pandemic has allowed me to better myself not only from a physical health manor, but intelligently too. I have grown to heights I honestly wish I would have done long before this. The result of this equation has been a significantly happier family home front. The time with my family can only be described by the word "priceless." Life is far better when you are happy and you can spread that joy to others.
Contact the Feature Writers