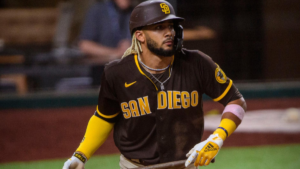 By Larry Daniels
The shortstop for the San Diego Padres, Fernando Tatis JR., is capturing the imagination of baseball fans everywhere. He is the NL player of the month July-August 2020. ESPN pundits are saying he is the most exciting player to watch right now.
Me: "Okay, you got my attention, let me check him out on video."
I see comparisons with only two players to equal his talent and competitiveness on the baseball field to my knowledge- Pete Rose and Ken Griffey, JR.
Did you ever see the clip of Pete Rose diving headfirst into third base? It was full speed, hair flying, and he didn't stick the landing. Dirt flew up, Pete got to his feet and acted like he got in a fight with the ground and won.
I watched a clip of Tatis, JR. avoiding the tag at third base. Have you ever seen a marlin jumping out of the water? Fernando looked like that, only horizontally, to avoid the tag. The opposing team ran off the field thinking he was out. The umpire signaled safe, and the play was reviewed in Fernando's favor. Magic time.
Ken Griffey, JR. was voted into the Hall of Fame with second highest vote percentage in Major League history. He hit a ton of home runs, and had a graceful, athletic approach to playing in the outfield that was magnificent to watch. That swing in the batter's box – textbook fluid motion and timing. Oh, so sweet.
Tatis Jr.'s swing reminds you of Griffey. Fernando puts his front leg in a vertical position of strength, and then the hands come through with the bat to create a barrier to meet the ball with maximum power. He has a solid platform, with his body and doesn't overswing. He makes it look easy.
On August 27th, Fernando became the second ever Padre to hit one out of Petco Park. The ball traveled an estimated 448 feet and landed on top of the Western Metal Supply Co. building nearby.
Did I mention his age? Tatis, JR. is only 21 years old.
At the time of this article being written, Fernando Tatis, JR. leads MLB in WAR (wins above replacement). Simply put, his 2.6 means his team has best chance of winning him in the lineup, more than any other player in baseball. Tatis, JR. is currently 5th in slugging percentage at .635, which indicates he hits for extra bases a lot. He is tied for 2nd in MLB in home runs with 15. Tied for second in runs batted-in with 40. He leads Major League baseball in runs scored with 46. 28th in hitting with a .303 average. His 54 hits are tied for fourth in the Major Leagues. We can also state that Fernando bats leadoff and is tied for 4th with 9 stolen bases.
Baseball fans are getting an early look into a great career here. Stay healthy, Fernando. We want to continue watching you play for a long time.
Pro Tip: Go out and buy this kid's rookie baseball card. Take that baby to a safe or a safety deposit box. It may pay off huge for you and your family someday.
Contact the Feature Writers