[AdSense-A]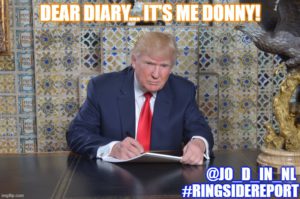 By Jo-Ann "Jo D NL" Duke
The diary scribblings of T4: Temper Tantrum Toddler Trump
Dear Diary,
Hey, it's me again. It's been like crazy, ever since that stupid report came out showing that I didn't tell everyone how bad that stupid virus actually was, seriously, it's so stupid. Like I was going to tell people how bad it was, and that I was trying to get that deal signed before I could start dealing with that thing. Yes, people died, but it's not like I caused them to get sick, they are acting like it's all my fault, it's so not fair.
They are making it seem like I didn't care, how was I supposed to stop it from spreading. They keep talking about how I should have done things quicker like shutting the country down faster than I did, keeping things closed longer, and making it so that people had to wear masks all the time.
Don't they understand if I had done that, I would have lost a lot of my followers, and this could cause me to lose that election thing in November. Seriously, I am so sick and tired of people blaming me for it, and being so mean to me about it. Like I said in that interview thing with that nasty Jonny, it is what it is. People are dying, and I can't stop it.
It's not my fault, I am pushing for that stupid cure, the vaccine to be finished as soon as possible. I know that if I can get it out before the election, people will be so happy that they will all vote for me, to stay president, and that is important. I don't really know what the fuss is, because people die all the time, it's just more right now than usual.
Why should I care about the people that don't like me? I don't see why it is so important, they are acting like I have torn the country apart, or something like that. Can't they see that I have made America great, the way it should be, and we can't let the other two win, because they will want to change all the great things I have done for this country.
They don't understand just what a job I have done since I have been in that office, and that they can't do it the same way as I have. My people won't let me go, they will probably even fight to keep me in here, because they know that I understand what they want, and feel the same, most of the time. Yes, they will defend and protect me, and how we want the US to be. I think the country is the best it can be, and I can't see why anyone would want to change it back to the way it was before I was elected. I know that I am the best thing, the best president this place has ever had, and no one will ever be able to do the same as I have. They are all just jealous of me, and I know what is best, so I will only do what I want, I don't care what any of those people who are supposed to be listening to me want, I am the boss, and it's going to be what I want, who cares about anyone else thinks or wants me to do.
Hey bud, thanks for letting me vent, I just need to get this out before I say something foolish in front of all those nasty fake news people. Well, talk to you later, back to the boring room.
Bye for now, love you.
Donny T.
Contact the Feature Writers