[AdSense-A]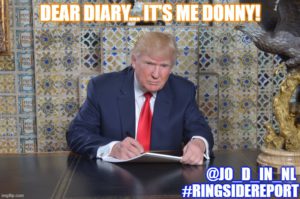 By Jo-Ann "Jo D NL" Duke
The diary scribblings of T4: Temper Tantrum Toddler Trump
Dear Diary,
It's me, again. They're being mean to me again. Now they are talking about how good Canada is doing with dealing with that Covid-19 thing. They are talking about how Canada has less than 9,200 deaths while here in the US we have almost 200,000 deaths. Well, bully for them, especially him, you know, J. T.; he just drives me nuts, how he is always trying to do something for his country, or at least looking like he does.
Thanks to him, now people here are expecting that I will do the same thing. Not likely, why should I. That place has like about 11% of the number of people that we have, so of course, their numbers are going to be lower, right. It's so clear that everyone should see this, and stop complaining and always talking about them, yuck.
Canada, Canada, Canada, that's what everyone is saying, because now they have managed to have a day when no one died; and those leftist, you know, antifa people are saying, so what can't we be the same? I am so sick of hearing about this,
I swear he goes out of his way to make me look bad, always trying to show how bad our numbers, but he's just jealous because of how much my followers love me, and will make sure that I win again; his last election was just so funny, he had to try and work with other leaders to form a government.
Why do I have to deal with this now, especially all the tweets and comments about how people want to move to Canada if I win the election; whiny little babies, they don't get their way, and they want to leave their country. Seriously, tell me, what does that place have to offer that my beautifully run US doesn't?
Why would anyone ever leave this amazing place; everything's so perfect, I really can't see all the issues those lefties have; they are just trying to stir up trouble and keep me from winning again, don't they understand that no one else can do the job the way I have; they are so weird; acting like going somewhere else is better than staying here, and living in their home country.
After my win back then, I heard a crazy stupid rumor that the computer system for Canada crashed because so many people were trying to find out how they could move to Canada, on the night of the election and right afterwards. Honestly, I know that is not true; like that many US people would want to leave; especially just because I was elected president. I bet Canada is saying this just to make themselves feel better. That has to be it, the US people would never do that.
Well, like I was saying earlier, they only have about 36 million or so people, and we have about 350 million people; so of course our numbers are going to be higher, because you know the more we test, we end up with more positive cases; like I said before, if we didn't test, the number of cases would go th down, so of courses our numbers are higher.
I wish that smarmy leader would go away, at least while I'm president; and then he speak in his two languages; yeah, that's another thing that guy does to make me look so badly, it's ugh, he drives me nuts, he just wishes he could be as good as me, right. Cause no one can ever be as good as me.
Well, I guess it's time for me to go back to work; won't they be surprised when I get there before they send someone out to look for me, hee hee. That will be so funny.
Bye for now, love you.
Donny T.
Contact the Feature Writers