[AdSense-A]
By Marlena Ryan
It is hard to believe that it was just 60 years ago that brave men and women were taking part in lunch counter sit-ins where they would remain seated at lunch counters, seeking to be treated the same as the white customers. Repeatedly they were denied service at whites only lunch counters. They faced arrest, harassment and even violence. One of these brave young men was a black college student named Dion Diamond. His actions would bring necessary attention to racial segregation and discrimination.
On June 9, 1960, a 19-year-old Dion Diamond, was refused service at a whites-only counter along with six other black students and six white students at a People's Drug Store counter in Arlington, Virginia. The manager refused to serve the students and even closed the counter. Diamond along with half of the group would leave and go to the lunch counter at the Drug Fair where they were again refused service. Except this time, they were surrounded by a crowd of white teenagers who harassed them. The very next day, Diamond would be arrested for trespassing when he was part of another sit-in at a Howard Johnson lunch counter.
After two weeks, these sit-ins would lead to five major businesses ending their practice of segregation including People's and Drug Fair, Woolworth's, and restaurants in Alexandria and Fairfax counties.
Dion Diamond would later go with a group of college students to challenge segregation at the Glen Echo Amusement Park in Glen Echo, Maryland. The amusement park was a whites only park. On June 30, 1960, while the group of students was picketing, a group of white protestors who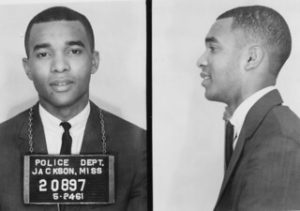 did not want the park to be integrated, showed up with picket signs that said, "Niggers out now" and "We don't want to swim with niggers". Diamond went to the area where the protestors were holding a picket sign that said, "Stop! Glen Echo is segregated." He was arrested along with other protestors for trespassing. Soon after, white residents of the Bannockburn community joined desegregation protests to demand change. The park would end its segregation practices in 1961.
In 1961, Dion Diamond joined a group of Freedom Riders after learning about a bus burning that almost killed many Freedom Riders in Anniston, Georgia. The Freedom Riders were a group of black and white people who wanted to challenge the laws that made segregation on interstate buses and trains legal. After the bus was burned, it was a second group of riders that were sent out to continue the trip. When the bus arrived in Montgomery, Alabama, they were viciously attacked by a mob of over 1,000 white people with baseball bats and metal pipes. The police did not intervene. Even members of the media were attacked. This prompted Americans across the nation to take notice. Outcries of support were shown for the Freedom Riders. The riders did not stop, but continued their mission, traveling to Mississippi. Dion Diamond was arrested along with other demonstrators in Jackson, Mississippi all for seeking integration of interstate transportation.
It was at this time that the U.S. Attorney General Robert Kennedy urged the riders to partake in a "cooling off" period. He made this statement on May 24, 1961: "A very difficult condition exists now in the states of Mississippi and Alabama. Besides the groups of 'Freedom Riders' traveling through these states, there are curiosity seekers, publicity seekers and others who are seeking to serve their own causes, as well as many persons who are traveling because they must use the interstate carriers to reach their destination. In this confused situation, there is increasingly possibility that innocent persons may be injured. A mob asks no questions. A cooling off period is needed. It would be wise for those traveling through these two Sites to delay their trips until the present state of confusion and danger has passed and an atmosphere of reason and normalcy has been restored."
Later that same day, Attorney General Kennedy had this to say: "The leaders of the student groups testing segregation laws in Alabama and Mississippi today were informed that no Federal Marshals would accompany the buses. The Federal Government's responsibility is quite clear in this situation. Our obligation is to protect interstate travelers and maintain law and order only when local authorities are unable or unwilling to do so. There is no basis at this time to assume that the people of Mississippi will be lawless or that the responsible state and local officials in Mississippi will not maintain law and order and protect interstate travel. We have appealed to all persons in Alabama and elsewhere to use restraint and to weigh their actions carefully — and the need to do so is even more apparent in the context of the inflammatory situation which exists today."
But the violence continued along with the protests which spread to the airports as well. And by November 1961, after receiving great pressure from the Kennedy administration, the Interstate Commerce Commission prohibited segregation within interstate transportation facilities.
During his civil rights activism, Dion Diamond was arrested over 30 times for fighting for civil rights and challenging segregation laws. He returned to school in 1963, and went on to graduate from the University of Wisconsin. He also earned a degree from Harvard University. And at the age of 79, his life as a young man, and his words now as he engages in public speaking, encourages young people and really all of us to use our voices to fight for racial equality.
Contact the Feature Writers