[AdSense-A]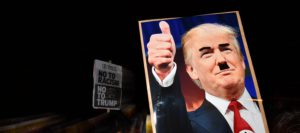 By Bethany "BST2" Armstrong
My friends and lovelies, my parents and educators,
I am shaking as I write this. Fear, Rage, the aftereffects of Last Night's Cough Syrup Bender? I can't really say. All I know for certain is that my fingers can barely type and that Donald Trump is now actively attacking the children of America, beyond killing them with corona by forcing the return to school (Kudos to the districts that said "I dissent" and went totally virtual or found ways to keep kids safe in the face of impossible demands), he's now attacking their brains, their history, their culture, and their very humanity.
If you think I'm just another hysterical female, a whiny bitch of a teacher, do me the final service of fucking the fuck off. Everyone else, listen up, our babies are in danger. This danger comes in the form of DonnyBoy's call for "Patriotic Education" with "Pro-American curriculum" (Jesus save us!). Don Juan DiDumbass thinks that teachers are guilty of "child abuse" and we're using "propaganda" to make children feel "that America is a wicked and racist nation, that even young children are complicit in oppression, and that our entire society must be radically transformed." The reality is that those who do not learn from History are DOOMED.
DonnyBoy says "Our youth will be taught to love America." But what he really means is he wants all children to have white, male dominated history crammed down their throats, he wants children to be FORCED to love America. If you have to force it, is it really love? Never mind, Don wouldn't understand, he's only ever forced love on underaged girls and pliable minds. Raping brains and bodies as he abuses his way to the top.
DonnyBoy attacks "critical race theory" like it is a demon straight from hell. Critical Race Theory just means human history. It is literally the study of how race and racism are wound throughout human history. No demon there.
Donny can call his mission, his commission, anything he likes. "Patriotism" "American Pride" It doesn't matter. A turd by any other name is still shit. And this, my friends, is some bullshit.
I'm listening to The Battle Hymn of the Republic by Herbie Mann now. It's bringing me a measure of peace. I know my teachers, we will rebel. Some of us will rebel stealthily and some of us will riot, but BY GOD we will rebel.
I remain, on the frontline, your rebel teacher,