[AdSense-A]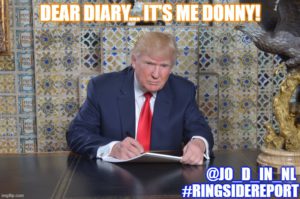 By Jo-Ann "Jo D NL" Duke
The diary scribblings of T4: Temper Tantrum Toddler Trump
Dear Diary,
Hey buddy, it's me again, your pal Donny. I had to do a speech today, and it was all about that nasty woman, Kamala, you know the one that's trying to become the VP. Well, anyway, I reminded the crowd today about just how nasty she was a couple of years ago when I was trying to get that guy Kavanagh appointed to the SCOTUS, hey, isn't that such a funny name for that, right?
Anyway, she was just so mean and nasty to him when I was trying to get him put on the Supreme Court, she went after him, and wouldn't leave him alone, until he answered her questions; she was like a dog with a bone, and would not stop asking him things.
Can you believe she kept going after him,, just like that nasty Jonny did to me, remember, that stupid interview where he just kept asking the same questions over and over, it was so mean and so hard, like, you know, right?
I guess she thought since she had been some prosecutor or something like that, that's what I heard, anyway, just cause of that, she seemed to think this allowed her to do this, because she knew about the law or some such thing, at least that is what the fake news people said about her; I really don't like her, she thinks she's so smart, and that she is better than me, as if. Really, where could she or anyone else have ever gotten that idea. It's crazy, right?
She can't get elected, because her and that old guy, Joe, they will ruin all the good things I have done since I got here, they will want to change everything back to the way things were before I became president, and I don't want that to happen; neither do my followers, they don't want to go back to having do what is right, instead of what they want like they have been doing since I became president.
Nowam that the older judge is gone, we are going to put someone in, who will be on our side, won't that be great, yeah, sorry to see her gone, but I will make some people happy, and say that a woman should get the job. See, I like women, and this proves it.
Well, talk to you later buddy, got to go back to Borezona, or my office as I call it. If I don't come back after a few minutes, they come looking for me, they are afraid that I am texting something; they want to stop me from saying what I think, like that's ever going to happen. I always find some way to get my thoughts out to my people, you know, the ones who make sure that I win again, yay,
Bye for now, laters, bud.
Donny
Contact the Feature Writers