[AdSense-A]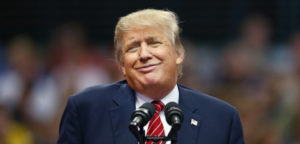 By Donald "Braveheart" Stewart
From over here in the UK, y'all look like you have a dilemma on your hands…
Or in your votes.
You have FBI directors telling people that a foreign government – Russia – are once again trying to influence the election of your President. On top of that you have wildfires that are tearing up the scrub in some of your states. Then there is a pandemic that is literally ripping through the living and I have to wonder if there has ever been a worse time to be American.
There is a stereotypical American that the majority of the world see and believe in. It is of a brash, fake, loud and simply ignorant tourist wandering around our cities and acting as if the only culture worth knowing about is American. We tend to think that America doesn't have much of a culture.
It's a false view of America but the problem is, one look at the head of your country and it is hard to imagine why that might be.
The latest young woman to come forward and expose his activities in the past may get forgotten in amongst the mood of the country as they vote but we all wonder what shall happen IF Donald J. Trump loses the election in November. Will the law enforcement agencies take it upon themselves to actually arrest and charge him for the ever-growing list of offences of which he has been accused; that is in contrast to the constant offence he causes as President.
Given that America was founded upon the idea of singularity, of standing up against unfair taxes from Britain, of standing as a beacon of freedom, of individualism and the rule of law, I can understand why Trump and his message resonates with some people. Understanding does not help much though.
But you have to swallow the Trump thing wholesale. Being a bit of a Trump supporter is a bit like trying to be a little bit pregnant. You are or you aint. Once the whole Trumpian idea is broken down it falls apart. The idea that law and order will win the day is the latest one we are looking at from over here with suspicion. We have had plenty of examples of how a call to the arms of law and order has played out in the UK with politicians wanting to be tough on crime and tough on the causes of crime.
It's the second concept that Trump really wants you to avoid – let that be a warning.
The causes of crime are poverty, drug addiction, hopelessness and not the American Way. The lack of opportunity to access even the lowest rung on the ladder of opportunity leaves mothers unable to feed their children, fathers unable to tend to their families, children despairing as they watch both falter and then society that can no longer hold back the tide of anger.
Through that people get ill. They get ill in themselves and ill in their communities. That sickness where it is all right for a privileged white man to walk through police cordons after shooting dead black citizens is a message that screams more than it tells.
Voting has begun. We are watching.
As COVID-19 is reinventing society for us all and people are beginning to wake up to the challenge of putting society and their communities back together again, fundamental principals as well as communal agreements are being challenged. What we believed were universal truths are no longer that. We need new truths and we need new principals and more than anything we need a new way of working. Joe Biden may not be the new, but he is certainly the gateway to it. With a female running mate who could be the next but next president there are brains and smarts aplenty in a ticket that ought to be embraced as THE ticket to bring the curtain down on the circus.
We wish you well. It was often said that is America sneezes, the United Kingdom caught the cold. Trump, Brexit, an increasingly out of touch Conservative Government are things we have to deal with in the United Kingdom. Kicking Donald J Trump out the White House would be the first step in changing that trend. Finding a way of jailing him would be the second. We don't always think of America bringing inspiration to our shores but be aware that might just bring us another new way of thinking. Culturally, that might be the greatest gift to send us.
Contact the Feature Writers