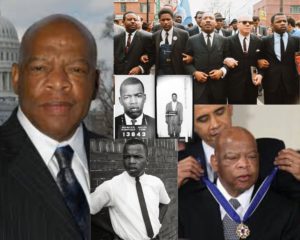 By Maya J. Carter
"America is a constant work in progress. What gives each new generation purpose is to take up the unfinished work of the last and carry it further — to speak out for what's right, to challenge an unjust status quo, and to imagine a better world. John Lewis — one of the original Freedom Riders, chairman of the Student Nonviolent Coordinating Committee, the youngest speaker at the March on Washington, leader of the march from Selma to Montgomery, Member of Congress representing the people of Georgia for 33 years — not only assumed that responsibility, he made it his life's work. He loved this country so much that he risked his life and his blood so that it might live up to its promise. And through the decades, he not only gave all of himself to the cause of freedom and justice, but inspired generations that followed to try to live up to his example." – "My Statement on the Passing of Rep. John Lewis", President Barack Obama
John Lewis was born near Troy, Alabama in 1940. Unbeknownst to him, being the son of sharecroppers in the segregated American South, he would become a towering figure in the civil rights movement, enduring physical violence and confronting racial animosity in the fight for racial equality.
Lewis was the third of ten children. At the young age of five years old, he dreamed of becoming a preacher, and recalled preaching to chickens on his family farm. During his childhood, he became keenly aware of racial segregation that pervaded all aspects of his life in the south, once recounting the story of being denied a library card in Troy due to his race. His relatives living in the north described for him their lives in an integrated society, from schools to buses to businesses, which was denied by laws and statutes to Black people in the south.The difference became apparent following a trip with his uncle to New York where he witnessed an integrated America first hand.
As a teen, Lewis recalled being in awe hearing Dr. Martin Luther King, Jr. on the radio. He found a kindred spirit, a man unafraid to root out injustice wherever it may cast its insufferable shadow. Lewis was particularly inspired by the 1956 Montgomery bus boycott. Following in King's footsteps, John Lewis became a preacher by age 15. His life journey would afford him the opportunity to meet Rosa Parks by age 17, and his hero Dr. King by age 18. Having been denied admission to Troy University in Alabama, Lewis corresponded with Dr. King who would graciously meet with him and give Lewis the nickname "the boy from Troy". Lewis discussed the possibility of pursuing a discrimination lawsuit against the university, yet Dr. King advised him of the risks a lawsuit would pose to his family in Troy. In the segregated south known for lynchings and Jim Crow laws, the danger was clear and obvious.
Lewis decided instead to enter a historically black college, American Baptist Theological Seminary in Nashville, Tennessee, where he became an ordained minister. He then attended Fisk University, where he received a bachelor's degree in religion and philosophy upon matriculation and joined Phi Beta Sigma fraternity. His dedication to the pursuit of civil rights grew ever stronger while at Fisk. He organized sit-ins which led to the desegregation of a number of lunch counters in downtown Tennessee. He organized bus boycotts and nonviolent means of protest in the quest to obtain voting rights for Black people and racial equality. His activism garnered him a number of arrests and jailing, yet he remained undeterred. You know the phrase "good trouble, necessary trouble"? It was during this time of student activism that this phrase became his mantra. He also studied and participated in nonviolence workshops to learn the lessons of discipline and the philosophy of nonviolence, teachings which would guide him throughout his life.
In 1961, Lewis became one of the original 13 Freedom Riders. The Freedom Riders were a group of Black and White civil rights activists, organized by the Congress of Racial Equality (CORE), who rode buses across the south in defiance of racial segregation laws regarding transportation governing the south. Specifically, the Freedom Rides aimed at testing two Supreme Court rulings: Boynton v. Virginia and Morgan v. Virginia, rulings which decided that segregation was unconstitutional in bathrooms, waiting rooms, and lunch counters in the first case, and on interstate buses and trains in the second. The Freedom Riders were consistently confronted by contemptuous segregationists of the south, and suffered from their violent actions including firebombing of the buses, beatings, mob violence, jailings, and state sanctioned attacks by the Ku Klux Klan. Lewis was beaten unconscious and left in a pool of his own blood outside the Greyhound Bus Terminal once in Montgomery, Alabama after an attack. Due to the persistent efforts of 60 Freedom Rides with the number of riders increased to 436 by the end of their activism, Attorney General Robert F. Kennedy petitioned the Interstate Commerce Commission to ban segregation in interstate bus travel, a petition which was enacted on November 1, 1961 which led to the removal of Jim Crow signs from stations, waiting rooms, water fountains, and restrooms in bus terminals.
In 1963, Lewis was elected Chairman of the Student Nonviolent Coordinating Committee (SNCC). By this time, he had been arrested 24 times while still adhering to the philosophy of reconciliation and nonviolence. SNCC opened Freedom Schools, created the Mississippi Freedom Summer, and held voter registration drives in the 1965 Selma voting rights campaign during his tenure which lasted until 1966.
Furthermore, Lewis became one of the "Big Six" leaders organizing the March on Washington in 1963. The other principle members of the "Big Six" included Dr. Martin Luther King, JR. who delivered his "I Have a Dream Speech" on the steps of the Lincoln Memorial, Whitney Young, A. Philip Randolph, James Farmer, and Roy Wilkins. John Lewis was the youngest of the speakers. His initial speech was deemed too radical to deliver to the Kennedy administration as he wished to directly confront the federal government's unconcerned attitude regarding the violence he and his fellow Freedom Riders faced in the south. The speech was edited to a softer position, and he became the fourth speaker of the March. An excerpt of his powerful speech:
"To those who have said, 'Be patient and wait,' we have long said that we cannot be patient. We do not want our freedom gradually, but we want to be free now! We are tired. We are tired of being beaten by policemen. We are tired of seeing our people locked up in jail over and over again. And then you holler, 'Be patient.' How long can we be patient? We want our freedom and we want it now. We do not want to go to jail. But we will go to jail if this is the price we must pay for love, brotherhood, and true peace."
In 1964, Lewis continued his work with the SNCC, organizing the Freedom Summer whose mission was to increase Black voter registration in the South, and allow college students to see for themselves the societal factors opposing the rights and liberty of Black people living in the south. He encouraged students to help with voting, particularly in the state of Mississippi which continued to deny or discourage Black people the right to exercise their right to vote. Obstacles Black people faced when registering to vote included Jim Crow-Literacy tests that listed 30 questions that had to be completed in 10 minutes. For example questions from a Louisiana form included:
"Divide a vertical line in two equal parts by bisecting it with a curved horizontal line that is only straight at its spot bisection of the vertical."
"Place a cross over the tenth letter in this line, a line under the first space in this sentence, and circle around the last the in the second line in this sentence."
"Print the word vote upside down but in the correct order."
"Write right from the left to the right as you see it spelled here."
"Write every other word in this first line and print every third word in the same line, (original type smaller and first line ended at comma) but capitalize the fifth word that you write."
The tests were designed to be nearly impossible to complete, thus disqualifying the applicant from registering to vote.
Most notable of Lewis's contributions to the civil rights movement was his participation in what would become known as "Bloody Sunday". On March 7, 1965 Hosea Williams and Lewis, who had led a number of marches from Selma to Montgomery, Alabama, would lead over 600 marchers across the Edmund Pettis Bridge in Selma en route to the state capital. Of note, Edmund Winston Pettus was a former Confederate brigadier general, United States Senator, and leader of the Alabama Ku Klux Klan. Due to the design of the bridge, the marchers were unable to see the end of the bridge until they reached the top. When they reached the apex, the marchers were able to see a phalanx of Alabama State Troopers in riot gear awaiting them at the end under orders of Sheriff Jim Clark, some on horseback. The sheriff had a reputation for corralling black protesters with a cattle prod. Upon seeing the state troopers, Williams asked Lewis if he was able to swim.
The state troopers commanded the marchers to disperse, but they continued to march forward. What came next was a sight so brutal, it awoke even parts of the America psyche apathetic to the cause of racial justice. The marchers were beaten with bullwhips and rubber tubing wrapped in barbed wire and tear gassed. Attack dogs ripped their clothing and skin. High pressure fire hoses were turned onto the marchers, including the children, with a force of which could remove bark from trees. One state trooper struck Lewis on the head with a billy club, cracking his skull, and then struck him again once he was on the ground. Another organizer, Amelia Boyton, was beaten unconscious. The image of her brutalized body was immortalized in newspapers. In all, 17 marchers were hospitalized due to the beatings and an additional 50 were treated for injuries.
Between May 1963 and August 1963, there had been 1,340 demonstrations in over 200 cities across 36 states in America. The blatant brutality of inflicted on the marchers on Bloody Sunday, however, had become a catalyst for federal action in the civil rights movement. As the march and violent aftermath including the beating of John Lewis was brought into the living rooms of people across the nation, Americans became outraged. The Voting Rights Act was shortly presented to the congress by President Lyndon B. Johnson, and signed into law on August 6, 1965. The law prohibited obstacles including literacy tests given to Black people in order to register to vote, and replaced segregationist voting registrars with federal registrars.
Despite 40 arrests from 1960 to 1966 and countless beating from police in the south and other racists, John Lewis never relented. It has been told that Lewis was known for "having an almost mystical faith in his survivability" according to the New York Times. He even spent 31 hard, long days in Mississippi's Parchman penitentiary.
The Voting Rights Act allowed for millions of Black people to fully participate in the democratic process, and further allowed for Black people to run for public office, including John Lewis. He was elected to the United States Congress in 1986, only the second African American to be sent to Congress from Georgia since Reconstruction, the first being Andrew Young. His district, I am so proud to say as a former resident in his district, included much of the area covering Atlanta.
In his own words:
"Some people have told me that I am rare bird in the blue sky of dreamers. I believed innocently and profoundly as a child that the world could be a better place. …I was a child with high ideas, lucky enough to have been born in an age when the wave of social transformation was about to culminate into the most powerful nonviolent movement for change in American history. I have survived the worst aggression, all the attacks mounted against dreamers to stamp out the light they see. I have been rejected, hated, oppressed, beaten, jailed, and have almost died only to live another day. I have witnessed betrayal, corruption, bombing, lunacy, conspiracy, and even assassination – and I have still kept marching on. And despite every attempt to keep me down, I have not been shaken." – "Across That Bridge", John Lewis
Maya at two landmarks for John Lewis in Atlanta, GA
Part II of this series next week will further cover the organizational and legislative work, writings and achievements and honors of Representative John Lewis.
Contact the Feature Writers