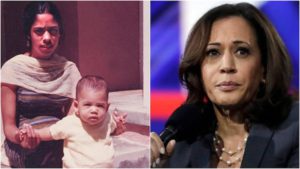 By Larry Daniels
Kamala Harris was born on October 20th, 1964 in Oakland, California. Her mother, Shyamala Gopalan, a biologist whose work on the progesterone receptor gene stimulated work in breast cancer research, had arrived in the US from India in 1958. Gopalan received her PhD in the same year Kamala was born. What a busy time for Kamala's Mom! Her father, Donald J. Harris, is a Stanford University professor emeritus of economics, who arrived in the US from British Jamaica in 1961 for graduate study at UC Berkeley, receiving a PhD in economics in 1966. It is easy to see where Ms. Harris gets her confidence and intellect from!
After high school, Harris attended Howard University where she interned as a mailroom clerk for California senator Alan Cranston. She chaired the economic society, led the debate team and joined Alpha Kappa Alpha sorority. Harris graduated from Howard 1986 with a degree in political science and economics. She then attended law school at the University of California, Hastings College of Law. She graduated with a Juris Doctor in 1989 and was admitted to the California bar in June 1990.
My list on educational experience for a Vice Presidential candidate is now checked.
Through dedication and hard work, Kamala's career led her to the path of becoming the District Attorney of San Francisco in 2004. Prior to taking office, the felony conviction rate was 50% in San Francisco. In 2009, it went to 76%. Convictions of drug dealers increased from 56% in 2003 to 74% in 2006. Prosecutions for low-level marijuana offenses were rare under Harris, and her office had a policy of not pursuing jail time for marijuana possession offenses. From 2004 to 2006, Harris achieved an 87% conviction rate for homicides in a 90% conviction rate for all felony gun violations. Harris has said life imprisonment without parole is a better and more cost-effective punishment than the death penalty and estimated that the resultant cost savings could pay for a thousand additional police officers in San Francisco alone.
My list on improving the Justice System in a large city for a Vice Presidential candidate is now checked.
With a growing career record, Kamala announced her candidacy to be the Attorney General of California in 2008. Ms. Harris won in a close vote and was sworn in on January 3rd, 2011. Almost immediately in 2011, Harris obtained two of the largest recoveries in the history of California's false claims act – $241 million from Quest diagnostics and $323 million from the SCAN healthcare network, over excess State Medi-Cal and federal Medicare payments.
Uncovering corporate scammers! Checkmark here too, for a Vice Presidential candidate.
From 2013 to 2015, Harris pursued financial recoveries for California's public employee and teachers' pensions against various financial giants for misrepresentation in the sale of mortgaged-backed securities. The recoveries amounted to $193 million from Citigroup, $210 million from S&P, $300 million from JP Morgan Chase, and over half a billion from Bank of America.
Fighting big banks against pension corruption. Another check for a Vice Presidential candidate.
After being elected, Harris declared her office would not defend the gay marriage ban, leaving the task to Prop 8's proponents. In February 2013, Harris filed a amicus curiae brief, arguing Prop 8 was unconstitutional and that the initiative sponsors did not have legal standing to represent California's interests by defending the law and Federal court. In June 2013, the supreme Court ruled, 5-4, that prop 8's proponents lacked legal standing to defend it and federal court. Harris urged the 9th circuit Court to lift the stay banning same-sex marriage as soon as possible. The stay was lifted two days later.
LGBT rights defended. Put down this checkmark for a Vice Presidential candidate.
Kamala launched her campaign for the US Senate in January of 2015. Harris captured the seat winning 60% of the vote in November of 2016. It is here where Senator Harris first got my attention. During Attorney General Jeff Session's testimony in James Comey's firing, Sessions stated during Senator Harris' quick-fire questions, "You're making me nervous." He was woefully unprepared and failed to answer many of her questions directly. During the confirmation hearing of Supreme Court Justice Brett Kavanaugh, Senator Harris asked him, "Have you discussed the Mueller investigation with anyone at the Kasowitz Benson Torres (lawyers for President Trump) law firm?" Kavanaugh replied, "I would like to know the person you're thinking of." Senator Harris replied," I think you're thinking of someone and you don't want to tell us." Brett looked like a little kid who was trying to lie to his parents.
We now have a check mark for the relentless pursuit of Constitutional Justice in a Vice-Presidential candidate.
In my opinion, Kamala checks all the points we need in a Vice President. Could we rely on her to lead the country if called upon? Ms. Harris' track record makes me totally comfortable with that thought.
My fellow Americans, it is time to receive the leadership we so desperately need. Please cast your vote for Joe Biden and Kamala Harris.
Contact the Feature Writers