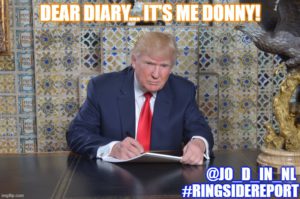 By Jo-Ann "Jo D NL" Duke
The diary scribblings of T4: Temper Tantrum Toddler Trump
Dear Diary,
Hey buddy, it's me, Donny, I'm back home again, finally. It is so good to be back here where I can relax and talk to you easier, because it was like I had to keep hiding you when I was at the hospital.
There were too many people around, and no way did I want them to see or read you. If that happened, then they would know exactly what I was thinking and feeling, and they might even tell other people, especially the nasty fake news people.
They would love to get their hands on you, they would write everything i have ever told you. That would be so bad, right? Can you imagine how they would react to all the secrets that I tell you, or how I really feel, especially about my followers.
It would ruin everything for me, and with the election coming up, I would be totally screwed. You and I both know how I really feel and what I think of them but that can't come out, well, at least not until after the election, and they have voted me back in again. Anyway, when you think about it, really, it's not any of their business, it is my private thoughts and feelings.
Well, even while I was in that place, you know, that Reed hospital, anyway, I made sure to keep telling people by the videos and my tweets just how easy the virus was, and that they had nothing to worry about, and to nothing to worry about if they do catch that virus themselves.
I also made sure to say how good I felt after the treatment they gave me; well, between us, I had lots of things done for me and given to me that I am sure that most people might not be able to get like I did; but why should they, it's not like they're special like me, after all, I am the president, the commander in chief, you know. Of course, I should get the best stuff instead of anyone else.
That's because this country needs me so badly, they can't do anything without me, because it's not like I was going to let Milton or Malcolm, whatever his name is, have any real power.
No way, i am the boss, it's all my power, and I am not sharing. Even if I did want to, there was no way to do it without freaking my followers out, and there was no chance I would let that happen; never ever, if they thought I was really sick, then they would start to wonder if anything all those doctors had said was true, that would be so much trouble for me, so I made sure to make it look like I was hardly sick at all, and that's my story, and like they say, I'm sticking to it. It's not like those doctors can say that's not true, so I am fine with all of that.
Guess what, it's like a ghost town here, there's only a few people here since more people keep testing positive for that stupid virus. Man, can they stop doing that? It's just making me look bad, can't they just not tell anyone that they got sick, at least until after the vote in a few weeks.
I mean, they can say that they are working from home, and then people will think we are being so careful, and it will look so good for us. I should email that guy Mark and tell him that, and he can pass that around to all the people getting sick, and it will help us, well me, for the election thing.
Well, buddy, it was so good to talk to you again without worrying about anyone seeing you. The only good thing about this is that I don't have to go back to that office and see all those people right away; plus I have so much time to tweet, I loved being able to tweet all morning, and reminding my people to go and vote for me.
Bye for now, love you and talk to you later.
Donny
Contact the Feature Writers