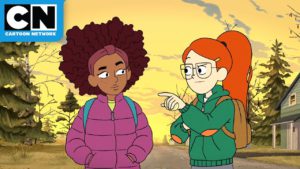 By Bethany "BST2" Armstrong
I typically only write reviews for funsies on my blog. This review is different. It is more of a forward to a series than a review of a series. This is something that is essential to every man, woman, and child in America, if not the world. The impact of this cartoon… if you can even call it that… has the potential to change and heal into infinity. I am writing about the Cartoon Network masterpiece "Infinity Train".
The premise of the series which finished season 3 as of this writing, is a strange train that picks up passengers who move from cart to cart. The passengers have a mysterious number on their hand that changes as they move from one dangerous train car, and situation, to another. You meet a variety of passengers and denizens (personifications created by the train). You get glimpses into a lot of lives, a lot of traumas, but each season follows one primary person. You will be invested in each person's journey as much as you are your own real train ride because there's something in each passenger that reflects every one of our souls.
The exploration of trauma in all its facets is my specialty, my unhealthy obsession, my magnum opus. We are living in a time of unprecedented trauma. Surrounding us like Nazi doctors are evils in the forms of racism, abuse, authoritarianism, neglect, pedophilia, misogyny, toxic masculinity, toxic femininity… the list goes on. You watch the news. You feel the prod of the blade into your soul, even if you do not identify it as such. Every single one of us is in the deepest experiences of pain and fear our species has ever known.
And in our very DNA, the traumatic experiences of our ancestors speed down the tracks. Epigenetic trauma, inherited trauma, "the sins of the father…" ; it doesn't matter what you call it. We inherit their unresolved trauma and then add our own. Then we commit the ultimate sin of passing them to our other fellow passengers.
So, who is the fucking conductor of this bullshit ride? Some say God. Some say chaos. Some say Amelia. I say "meh". The conductor is not our problem. The train is not our problem. The problem is with our ride. Our own ride and how we interact with our fellow passengers are of prime importance. The people we love are the ones for which we must valiantly try to rewrite our own DNA … the ones for which we break cycles … the ones for whom we ride. That is how we put the brakes on the trauma train.
Before you take a seat and watch Infinity Train with your passenger you must be aware that brains don't know the difference between real and imaginary. Brains just know sensory and experience. It cannot differentiate between real and imagined trauma. Please have discussions. Put it into context. Think about it. But do not ride alone.
This cartoon is art and art imitates life. Art doesn't reflect life any better than a funhouse mirror, with some things magnified and some things distorted and some things shrunk. Creating and comprehending art is our key to understanding the ride. Tickets please!
My motto is "No SPOILERS" so I won't reveal any more. Watch it. Bring tissues. Sit with your precious passengers and enjoy art that, while it is made with kids in mind, is a necessary therapy for humans of any age. Hunter would say "Buy the ticket. Take the Ride." I say, "Brace yourselves lovelies… it's gonna be a helluva ride."
Contact the Feature Writers