Loading ...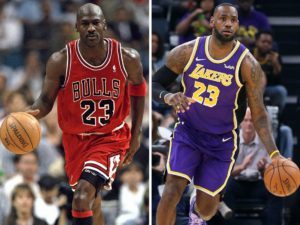 By Larry Daniels
Basketball fans love to ponder the question, "Who is the GOAT (Greatest Of All Time)?" The NBA has a rich history of incredible players from different eras that give us plenty to choose from.
In 1964, Wilt "The Stilt" Chamberlain's dominance led to the widening of the free throw lane from 12 to 16 feet. Wilt even scored 100 points in a single game against the Knicks in 1962. He averaged a jaw dropping 50 points per in the 1961-1962 season. Chamberlain still holds many NBA career records, including his seemingly untouchable 22.9 rebounds per game throughout his entire career. Heck, Wilt was featured in the 1984 film, "Conan the Destroyer." How cool is that?
Oscar "The Big O" Robertson is the starting point when triple doubles (double digits in three offensive categories for the game; usually points, rebounds, and assists) are mentioned as a productive game for an NBA player. In the 1961-1962 season, Oscar averaged a triple double (30.8 points per game, 12.5 rebounds per game, and 11.4 assists per game). Robertson was the strongest point guard of his era and ended his career with a record total of 181 triple doubles. A 12-time All Star, and an 11-time member of the All-NBA Team – the father of basketball court leadership.
Kareem Abdul Jabbar is the NBA's all-time career scoring leader in 20 seasons (38,387). Kareem was a 6x MVP, a 19 (yep, that's right, 19) time NBA All-Star, a 15x All-NBA Team member, an 11-time NBA All-Defensive Team member, a member of 6 NBA Championship teams as a player, and 2 more as a coach. At 7'3" tall, Kareem developed a "Skyhook shot" that was impossible to block. If you were to start a team from scratch, Kareem is your center. He also had a role in Bruce Lee's film, "Game of Death." Very cool, as well. It's not surprising Jabbar gets a lot of consideration for being the NBA's GOAT.
With all due respect to the NBA Hall of Famers already mentioned, the current choice of GOAT comes down to two players, LeBron James and Michael Jordan. This is my opinion and I stand behind it based on watching them play for many years, although my opinion will never be more important than anyone else's. What follows is a comparison of LeBron and MJ in specific data categories. Here goes:
Scoring:
Michael Jordan led the NBA in scoring 10 times, more than any other player in history. Michael finished his career with a total of 32,292 points, ranking 5th of all-time. LeBron led the NBA in scoring once in 2008. James' career scoring total is 34,241, ranking 3rd on the NBA's all-time list. In watching these great players execute on offense, Jordan was like watching a shark-feeding frenzy. LeBron was more like a rhino. They attack, score, and make opponents frustrated.
Edge: Jordan, but just slightly.
Assists:
Michael Jordan finished his career with 5,633 assists averaging 5.3 per game. LeBron James currently has 9,346 assists in his career, averaging 7.4 per game. LeBron's total ranks 8th of all time in the NBA. Michael looked to score more than LeBron. I think he wanted to show opponents that he was impossible to guard to get inside their head. James looked to get his teammates more involved and the stats prove it.
Edge: James.
Rebounds:
Michael Jordan finished his career with 6,672 rebounds, ranking 140th of all-time. LeBron James currently has 9,405 rebounds, ranking 54th all-time. At 6'9" tall, rebounds were easier to grab for James, compared to the 6'6" Jordan. In the backcourt, it wasn't important for Jordan to grab rebounds. Once the ball crossed half court, it was time for Jordan to set up the offense.
Edge: James
Defense:
Michael Jordan was the NBA's Defensive Player of the Year in 1988, and a 9x NBA All-Defensive First Team member. LeBron James is a 5x NBA All-Defensive Team member. Jordan finished with 2,514 steals in his career. James has a current total of 2,015 steals. Jordan should be behind bars. Stealing the basketball was fun to him. Another way to live inside your head and humiliate you.
Edge: Jordan
Playoffs and Championships:
Michael Jordan is a 6x NBA champion. He was the MVP in each of the Finals in which he played, 6 out of 6. That is perfect. He averaged 33.8 points per game in the Playoffs during his career. LeBron James is a 4x NBA champion. He was the MVP in each of the Finals in which he played. Perfect as well. These guys are amazing. LeBron has averaged 28.8 points per game in the Playoffs in his career. He has played in 258 Playoff games and never missed one his entire career, due to injury. Mr. James is tough!
Edge: Slightly to Jordan here.
Conclusion:
I watched the Finals game between LeBron's Lakers and the Heat on October 9th. James dropped 40 on Miami, with 15 shots made, out of 21 taken (6 out of 9 from 3pt. range). The Lakers lost by 3, but LeBron was the only reason it was close. Michael Jordan is the guy you want on the floor when you want to win a big game. No question, he competed harder mentally and physically than everyone else. He is the GOAT now. LeBron is STILL great. If I was to start a franchise today, I would draft James ahead of Michael. Why? James is still going. He could easily pass Jabbar as the all-time leading scorer. That would make him the GOAT, in my view.
As always, Ringside Report welcomes your comments.
Contact the Feature Writers