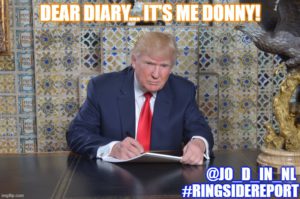 By Jo-Ann "Jo D NL" Duke
The diary scribblings of T4: Temper Tantrum Toddler Trump
Dear Diary,
Hey big guy, it's me, Donny. Can you believe there are reports by the fake news saying that people are talking about voting for Sleepy Joe instead of me, that is so crazy, how can anyone who reads those things even believe them.
It's just more proof of how mean and nasty all those fake new people are always being towards me, and now they are trying to make people think that I am going to lose next month, as if that could ever happen.
Why would the people want anyone else to be here as president instead of me, after all, I am the best, smartest, greatest and most special person as well, at least that's what my followers are always saying.
They completely love me to pieces, and they will do anything possible that they think is needed to make sure that I win that stupid election. I mean, we all know, that there is no way that I can lose.
Though, if for some strange reason that actually happens, well, I'm not going anywhere because it will not be real, and it will be due to all the mail in voting fraud that must have happened, for there to be any other result than me being declared the winner.
We both know that it can't happen any other way, that everyone knows that I'm going to be re-elected, so I am not worried, not really. I don't have any reason to be, because my followers really do love me so much, and they can't see how I may lose, because everyone does love me.
Plus now, with me having caught and conquered that stupid virus, on top of my amazing debate performance, well, that has made me a hero to so many people, and they will for sure be voting for me.
I think finally all of the people here in the States are realizing how lucky they are to have me as president, with everything I have done in the past few years. You have to admit that no one else could have done what I have while I have been here, and they would never have gotten the same results as me.
Of course, I don't want to sound like I am bragging, since we both know how humble I am, but I am definitely a one of a kind president since there has never been anyone else like me, and we both know that there never will be; I am definitely an original, never to be copied, right? I will go down in history for all my time here in this place, and that's just amazing.
Everyone will always remember everything I did, and I will always be the best thing that ever happened to this country, because no one else will have done what I have, since they aren't so smart and capable like me. It's a real burden, you know, having to always be so good, strong and brave; especially since I always put everyone ahead of myself, and give all of myself for the country. Can any of the other presidents say that?
No, there has never been any of them who have done what I have done, especially for all the people that were ignored before; so of course, they will want me to stay and keep doing such an amazing job; look at what I have done so far, it can only get better, right?
Well, thanks once again, my bestest buddy, for always giving me someone who understands me completely, and is always there for me. I guess that I better get back to the boron, those few staff that aren't afraid to come to work that is; and we'll work on the rest of my amazing rallies and speeches, even though we both know it's not necessary, that I am so winning this thing.
To be honest I don't know why we are putting so much effort in, because it's not like anyone is actually going to vote for Sleepy Joe and Nasty Kamala.
Bye for now, later, and love you, buddy.
Donny
Contact the Feature Writers