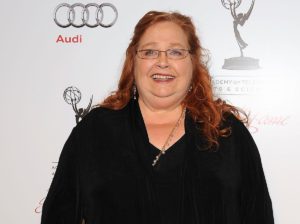 By Geoffrey Huchel
Conchata Ferrell, the character actress known for her many appearances on television and in films, died on October 12, 2020, as a result of complications following cardiac arrest, in Sherman Oaks, California. She was 77.
Ferrell began her career on the stage as a member of the Circle Repertory Company. She was in the original cast of the Off-Broadway production The Hot L Baltimore. She also appeared in the Off-Broadway production The Sea Horse, earning a Drama Desk Award, a Theatre World Award, an Obie Award and a Western Heritage Award for her work in the production.
Ferrell was best known for playing Berta, the spunky housekeeper, on the sitcom TWO AND A HALF MEN (2003) for all twelve seasons and earned two Primetime Emmy nominations for Outstanding Supporting Actress in a Comedy for her role. Ferrell's television credits include MAUDE (1972), HOT L BALTIMORE (1975), ONE DAY AT A TIME (1975), THE ROCKFORD FILES (1974), GOOD TIMES (1974), THE LOVE BOAT (1977), KNOTS LANDING (1979), B.J. AND THE BEAR (1978), LOU GRANT (1977), QUINCY, M.E. (1976), CAGNEY & LACEY (1981), ST. ELSEWHERE (1982), E/R (1984), MATLOCK (1986), NIGHT COURT (1984), WHO'S THE BOSS (1984), MURDER, SHE WROTE (1984), L.A. LAW (1986), DINOSAUROUS (1991), HEARTS AFIRE (1992), WALKER, TEXAS RANGER (1993), TEEN ANGEL (1997), BUFFY THE VAMPIRE SLAYER (1997), TOUCHED BY AN ANGEL (1994), JAG (1995), FRIENDS (1994), ER (1994), SABRINA THE TEENAGE WITCH (1996), JUDGING AMY (1999), GRACE AND FRANKIE (2015) and THE RANCH.
Most of us may remember Ferrell as Helen, one of the nosey neighbors in Tim Burton's EDWARD SCISSORHANDS (1994), and as Barbara in the Oscar winning drama NETWORK (1976). Her other film credits include WHO'LL SAVE OUR CHILDREN (1977), HEARTLAND (1979), REUNION (1980), EMERGENCY ROOM (1983), THE THREE WISHES OF BILLY GRIER (1984), PICNIC (1986), EYE ON THE SPARROW (1987), FOR KEEPS? (1988), MYSTIC PIZZA (1988), GOODBYE, MISS 4TH OF JULY (1988), YOUR MOTHER WEARS COMBAT BOOTS (1989), OPPOSITES ATTRACT (1990), TRUE ROMANCE (1993), SAMURAI COWBOY (1994), FREEWAY (1996), ERIN BROCKOVICH (2000), AMY & ISABELLE (2001), K-PAX (2001), MR. DEEDS (2002), KABLUEY (2007), FRANKENWEENIE (2012), and KRAMPUS (2015).
Ringside Report sends our condolences to Conchata Ferrell's family during their time of grief.
Contact the Feature Writers