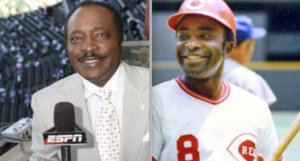 By Larry Daniels
Ringside Report is very sad to announce the passing of Hall of Fame second baseman Joe Morgan, on Sunday, October 11th, at his home in Danville, California. He was 77. Our deepest condolences go out to Theresa, his wife of 30 years, daughters Kelly and Ashley, and daughters Lisa and Angela from his marriage to Gloria Morgan.
Joe Morgan played most of his 22-year career with the Cincinnati Reds and the Houston Astros. A World Series champion with the Cincinnati Reds in 1975 and 1976, Morgan took home the National League MVP in both of those seasons. Joe was inducted into the Baseball Hall of Fame in 1990. His 689 career stolen bases ranks 11th of all-time. Morgan took home the Gold Glove Award for second baseman five times. He was a 10x All Star. Joe batted .271 for his career, with 268 home runs and 1,133 RBIs. The Cincinnati Reds retired his number eight jersey in 1987.
Personally, I felt Joe's pre-pitch preparation was the coolest in baseball history. The story goes that when Morgan first started in the big leagues, he kept his elbow too low in the batter's box. In the 1963 season, teammate Nellie Fox suggested to Joe, he should flap his back arm like a chicken to keep his elbow up. To me, it looked like he was cocking an air rifle. Many Little Leaguers at the time copied this move. It must have been intimidating to many a pitcher. "Please don't let him kill me!"
After his baseball career was over, Joe spent 25 plus years as a broadcaster for the Little League World Series, the College World Series, and a ton of professional baseball assignments. He was invaluable in this role. Once, during the 2006 Playoffs, Joe called the first half of the Mets-Dodgers playoff game at Shea Stadium before traveling across town to call the Yankees-Tigers night game at Yankee Stadium. Ask any New Yorker if that was an easy thing to do.
Above and beyond his other accomplishments, I always felt Joe shined when he was calling a game and a runner reached first base. An 80% base stealer in his career, Morgan had his PhD in walking the viewer through what was happening. He would break down the pitcher's move to first base and what his "tells" were. Joe would then tell the audience if the runner had a large enough lead to be successful and which pitch count was a good time to take off for second base. He was a master class.
Joe was remembered fondly by his peers and friends. Astros manager Dusty Baker said, "He meant a lot to us, a lot to me, a lot to baseball, a lot to African Americans around the country, a lot to players that were considered undersized. He was one of the first examples of speed and power for a guy they said was too small to play." Cincinnati Reds CEO Bob Castellini said in a statement, "The Reds family is heartbroken. Joe was a giant in the game and was adored by the fans in this city. He had a lifelong loyalty and dedication to this organization that extended to our current team and front office staff. As a cornerstone on one of the greatest teams in baseball history, his contributions to this franchise will live forever. Our hearts ache for his Big Red Machine teammates." Hall of Fame catcher and teammate Johnny Bench said in a text to the Associated Press, "Joe Morgan was simply the best baseball player I played against, or saw. He did it all, and he did it all the time. Great father and outstanding businessman. He was a friend to so many and respected by all."
2020 has been a year of passing for many baseball legends and Hall of Famers. Heaven has my childhood heroes available to play. We will miss them dearly. Rest In Power #8.
Contact the Feature Writers