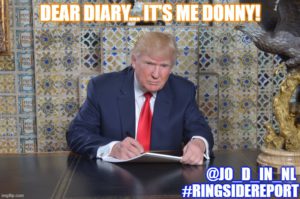 By Jo-Ann "Jo D NL" Duke
The diary scribblings of T4: Temper Tantrum Toddler Trump
Dear Diary,
It's me again, buddy, Donny. I gotta tell you, I am so mad at my so-called AG, whatever that means, cause he has failed me completely. After all this time he spent on that investigation on that guy Obama and Sleepy Joe, I just found out that he won't be charging any of the awful mean people; both of them, who I am sure were trying to spy on my campaign back the last time I ran for president.
I don't believe it, they are saying that there is no proof of any wrong-doing, I think that's what they said. That's just so stupid and crazy, since we all know what they did back then. See, if we could show that they had done something so bad to me, then none of the people who aren't my followers would want to vote for him, not ever.
Another thing is that they would feel bad for me, because they did something so mean to me, and they would want me to feel better, so they might vote for me. That would be so cool, and well, really, I do deserve for people to be nice to me, after all the other people have been so mean to me so much this past few months, especially those nasty fake news people.
They are always either asking me stupid questions that I don't know the answers to, or I can't answer without getting me and other people in trouble, you know what I mean. Anyway, how it is possible that they couldn't find any proof, after all, they kept talking about how those people working on the campaign were caught on tape talking about me winning the election. Couldn't they have used this as proof, seriously.
After all, they said all those nasty hurtful things about me, and I am such a nice sweet kind guy, who would never go out of his way to say anything mean about anyone else. Why can't everyone else be as nice as me, but, oh well, we both know that I am just so good, and that there is not anyone else like me, since I am one of a kind, at least that's what I have been told, and I agree with that, hee hee.
Well, thanks for talking to me buddy, I always feel better after this. I gotta go back to my office; finally, I am having fun there, with us planning my best ever rallies, just look at how much love my followers show me at those things. That's why I love going to them, you know.
Bye for now, talk to you later, and love you.
Donny
Contact the Feature Writers