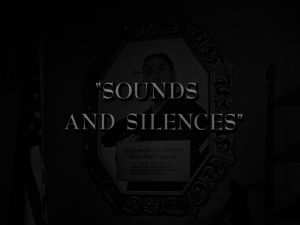 By William Kozy
Finally, an episode I can honestly say I have never ever seen before. I embarked on this survey project asking writers in the fantasy/sci-fi genre and members of Facebook Twilight Zone groups: "What is your favorite episode of the original Twilight Zone series?" Understandably some episodes are heavily favored by the over 3,000 fans responding, but alas, there are some that received a scant 4, 3, 2, 1 or even zero votes. "Sounds and Silences" is one of those poorly received episodes, garnering only two votes. I suppose I never came across this one because it had been taken out of syndication for a while due to legal issues involving Rod Serling's script. Apparently, a writer had submitted a script two years earlier called "The Sound of Silence" with a very similar plot. It probably lurked around the hallowed halls of Mr. Serling's subconscious, and he churned out his "Sounds and silences" script. Hey, it happens. Just ask George Harrison.
Fortunately I was able to access this episode via Netflix. Well, maybe "fortunately" is the wrong word.
The episode comes off like a freshman college student's stab at a creative writing assignment to make up an episode of "The Twilight Zone"—sure, there's a somewhat supernatural or psychologically twisted premise, but the moral lesson feels confusing, unlike in the better TZ episodes.
We begin with Roswell G. Flemington getting up out of his hammock, dressed as a navy man and walking out into the office where he addresses the workers of his "Roswell G. Flemington Model Ship Company." He speaks to them in a commanding, officious manner, which the actor John McGiver specialized in. You've seen him play this shtick in countless television programs over several decades. Once he issues his final Captain Bligh-like declaration and leaves, the four office workers trade quips about what they'd like to see happen to him someday.
Our host, Rod Serling describes Flemington's problem: "This is Roswell G. Flemington, two hundred and twenty pounds of gristle, lung tissue and sound decibels. He is, as you have perceived, a noisy man; one of a breed who substitutes volume for substance, sound for significance, and shouting to cover up the readily apparent phenomena that he is nothing more than an overweight and aging perennial Sea Scout whose noise-making is in inverse ratio to his competence and to his character. But soon our would-be admiral of the fleet will embark on another voyage. This one is an uncharted and twisting stream that heads for a distant port called – The Twilight Zone."
One aspect Serling hits on in that monologue is that Flemington is "incompetent." This is one of the confusing aspects of the story. Is that really at issue at all? Yes, he is a noisy man, and of a certain character that no one would appreciate being in the company of, but incompetent? The episode never gives any evidence of that. It seems for all we see that he's running a fully functional business.
Roswell is next seen listening to his record player blasting "the actual sound of the battleship Missouri bombarding Okinawa." He has the volume up so loud that furniture and props in the room quiver (although not very convincingly)—so loud that his wife can't hear who is on the phone when she enters the room to answer it. Why didn't Roswell answer the phone? Doesn't he have a business to run, or does he not care who in the world it might have been? He does seem lost in some sort of reverie—perhaps he is thinking back to the glory days of his navy career, wishing maybe that life was as exciting as it was back then? It's a character detail that the episode never takes advantage of in painting who this man is, and where his problems stem from.
Frustrated, his wife (Penny Singleton who played Blondie in the 1940's film series) takes the vinyl record and smashes it. Flemington launches into a verbose condemnation of her action complete with a gesture he will summon up throughout the episode: raising his index finger pointedly as he castigates someone. She, however, has finally had it up to here and tells him so, in a long overwritten monologue.
She exits to her room and when Roswell bangs on the door until he tires, she opens it calmly saying, "It wasn't locked Roswell." He launches into what seems to be the crux of his psychological make up: when he was a little boy, his mother who claimed to be sick, made him walk on tiptoe and whisper. But Roswell saw her as "whiny" and "petulant" similar to his own wife he tells her. He yells at his wife that he had quite enough of that, and that's why he went to sea, in pursuit of living a life of the "free and the unfettered."
In response she tells him that he is officially "dumped."
He retreats to his record player and puts on "Flight Deck Sounds of Aircraft Leaving the Carrier 'Hornet'". Watch closely and…heck you don't even have to watch closely, because the props department is way off in syncopating the quivering of the ship steering wheel mounted to the wall with the loud sound of the record. You can tell that they started shaking all the props, perhaps sensibly, when Roswell lowers the needle onto the record. But there is no sound at all yet to make the furniture quiver. The loud kaboom from the record doesn't occur until about 7 seconds later.
Inexplicably as Roswell lies in bed, he becomes afflicted with oversensitivity to the smallest of sounds such as a leaky faucet. McGiver's over-reactions to these sounds is bizarre to the point of me wondering if this was supposed to be one of the TZ's notoriously unfunny comedies.
He goes to see a doctor who finds nothing physically wrong with him. He does however believe that Roswell should seek some psychiatric help. This doesn't go over well, and Roswell bellows an admonishment as he storms out.
Back at the office, he demands quiet from everybody. The traffic outside is unbearable so he shuts the window. The water cooler gurgling is intolerable and he opens the door to tell the workers to keep it down. But then Conklin (Billy Benedict) walks across the floor and his shoes squeak astoundingly. The sound agonizes Roswell, but the odd thing is that Conklin himself stops in mid stride also noticing the squeak—now why is that? Isn't the point that only Roswell is stricken with this curse?
Giving in, Roswell goes to see a psychiatrist who seems to have pinpointed the problem. Roswell resents his mother's "imaginary aches and pains" and this feeling extended to his wife who provided a "mother image." Roswell rises up from couch cured. He snaps his fingers to prove it and is delighted.
For the number of times Roswell uses the phrase "mind over matter" they could have titled this episode that, but oops, they used that one three years earlier for an equally inane episode. Back home, his wife returns to gather her jewelry. They continue their jibes using as many naval puns and allusions as Serling could get his hands on. Roswell concludes his arguments by blaming his whole problem on her. Then he tells her that he has such an incredible will, that he can completely shut her off. He tells her to go ahead and yell at him. She doesn't, but she does continue to explain to him that he's got something wrong with him, but this time her voice is muted to a barely audible level.
"See! See!" Roswell yells triumphantly while pointing that finger in her face. She tells him he needs help, and she exits for good.
Roswell happily attends to his hobby and puts on the record player "Actual Sounds of Japanese Destroyer Exploding in Leyte Bay. Complete with Boiler Hissings, Fantail Cracking and Smokestack Exploding." But when he lays the needle down he can't hear it. Nor can he hear the traffic outside. He fiddles with the record and the wires, but nothing helps. He smashes bottles, tips over a bureau but they don't make a sound. He yells a lot though and that remains unmuted in the sound design. He screams out the window for the world to make some noise, to be louder. We are left with the image of the props in the room trembling, so we can assume the record is booming away. I'm just glad I don't live in the apartment below him in…The Twilight Zone.
I rate this episode a 1.4
Contact the Feature Writers