[AdSense-A]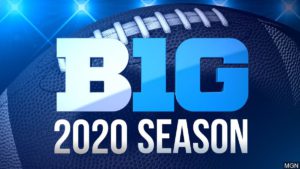 By Larry Daniels
On Thursday, October 22, 2020, the Big Ten Football Conference announced that games cancelled by Covid-19 concerns will be deemed, "no contest". This is not the first time the Conference has made schedule adjustments during a pandemic.
The pandemic of 1918 raged throughout the world taking countless lives. In the US alone, the so-called "Spanish Flu" took 675,000 total American lives. World War I was being fought at the same time. In September of 1918, the US War Department warned that college football could be canceled because it would distract from military training. A couple of weeks later, the government reversed its position.
The game could help build the aggressiveness to fight, and the grit to endure grinding days in the trenches of France, it reasoned. "It would be difficult to overestimate the value of football experience as a part of a soldier's training," President Woodrow Wilson later wrote. On college campuses, football teams called upon freshman to play in place of the upperclassmen that had left for the war. Teams also got help from the ranks of the Student Army Training Corps, with on-campus boot camps being set up nationwide. Some colleges played games against military teams. To prioritize training, the War Department limited football practice time and restricted travel from University campuses to Saturday afternoons in October. Overnight road trips were eliminated. Meanwhile, the virus spread, prompting regional health authorities to ban fans from games or prohibit large gatherings. At one point, all games scheduled in Illinois and Iowa were called off. By the third week in October, Michigan's team, packed with Army training corps members, was playing with masks. Michigan's team went 5-0 that season, having played only 2 conference games, and shared the national title with Pittsburgh. The season was a patchwork quilt of teams and schedule lengths for college football.
In 2020, teams in the Big Ten Conference will play eight games starting the weekend of October 24th. A 9th week will be added for all 14 teams during Big Ten champions week, the weekend of December 19th. In order to compete in the Big Ten championship game, a team must play at least six games, according to conference tiebreaker rules that were also released last Thursday. Teams such as Clemson and Notre Dame have 11 games on their schedule. Alabama has 10 games on its schedule, plus any post-season games to be added later for non-Big Ten schools. The Big Ten also announced on Thursday that each school in the conference will be responsible for enforcing the wearing of masks on the sidelines during games. Conference athletic directors will participate in a weekly review process to ensure compliance and adherence to the protocol. The delayed Big Ten schedule rams right up against the final college football playoff ranking on December 20th.
Conclusion:
This is 2020. The United States just set the daily record for coronavirus cases with a total of over 83,000 on October 23. The danger to these athletes is real. Money and politics have been deemed more important than safety and health. We need to keep in mind that college football is a game. Does the sporadic outbreaks of Covid-19 and the uneven number of games played by schools give any legitimacy to this season? Was Michigan's 1918 shared national title relevant to history? Will this year's champion be relevant? I love college football. To me it is fantastic entertainment. I would not trade the long-term quality of life of these players, for my entertainment. We will have to rebuild this nation during and after this pandemic. College students will be a large part of forming ideas for the United States going forward. In my view, the season should have been canceled. We are in a war against an invisible enemy. The goal should be to protect civilians, shouldn't it?
We are coming into a bad season of Covid-19. Please don't gather in large groups for the holidays, especially via long distance travel. Slow the spread, wear a mask, and social distance. Do you want this virus for years more or months? Let's go for the latter. Peace and love.
Contact the Feature Writers