[AdSense-A]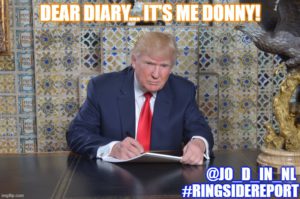 By Jo-Ann "Jo D NL" Duke
The diary scribblings of T4: Temper Tantrum Toddler Trump
Dear Diary,
Hey big guy, it's me, Donny. Only like 10 days now before the big day, when everyone votes for me, and I am announced as the president once again. I mean, it's obvious that there is no way that I can lose; especially to him, you know, Sleepy Joe. I mean, come on, who would ever want to vote for him, or even think about it, when they have me as the only real choice, right?
I mean, just look at all the people who were loving on me at all my rallies the past week or so, anyone who watched them could see how much they all love me; also, they could see how much they want me to keep being the president.
I know what you are thinking, there are lots of people who weren't at the rallies, but see, the ones who were, well, they are my most brave and loyal followers, but we both know that there are so many more people who really love having me be their president, but they just aren't brave enough to be there in public, but they still want me and will vote for me on Nov. 3, of course.
Think about it, why wouldn't they want me, just look at the job I have done since I was sworn in as president; I mean, what reason could they have for not wanting me to be there for at least four more years.
To be honest, after the election, once I am back in the office getting ready for my next big party, I am defs sure that all the people who are going to vote for me, that they are going to start pushing to have me stay way longer than just the next four years; and if that's what they want, well, of course, I will be happy to do that for them, hee hee.
They don't even know that I have been slowly but surely putting that idea into their brains, and it will pay off for me when they demand that I stay president for many more years, and it's not like they could ever get someone any better than me.
Well, that's because there is no one else like me, I am definitely one of a kind, very unique. That's what makes me so special, because I am just so amazing, fantastic, great, smart and just such a great, kind, nice, sweet and humble guy.
Any of those not so nice things I said, well, that was just because I was upset by all the mean and awful people, you know all the nasty fake news people, and those people in that other party, who were always talking bad about me.
I had to defend myself, plus all the special people who are willing to defend me, especially if those awful people try to steal my election, which would not surprise me in the least. They will be there waiting to defend me and all of the good people here, and they will make sure things turn out all right, just the way they should.
Of course, it's not very likely that we are going to need them, cause there is no chance that I could lose this thing. I mean, the thought is just too funny, that Sleepy Joe and Nasty Kamala could beat me and Malcolm, wait, that's his name, right?
Well, buddy, thanks for letting me vent again, you're such a good pal. Now, I gotta go back to the office for a few minutes to make sure that my borons are setting up good places for me to visit to convince, one more chance, all of my followers to vote for me again.
It's not really necessary, but why not take the time to get them all excited, and to get their families and friends to vote for me too. I will be so glad when I can get back to all the important things, you know, like being able to tweet as much as I want every day.
Bye for now, let's talk later, love you.
Donny
Contact the Feature Writers