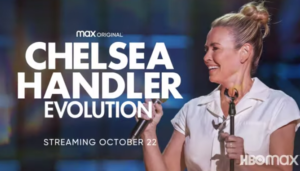 By Janet Grace
I watched Chelsea Handler's New Stand Up Show: "Evolution" currently streaming on HBO MAX. If you love Chelsea, appreciate her raw humor, I recommend it. Especially, during these last days left before we reveal if we won our country back from the hands of this crazed, corrupt and unhinged administration, which did all it could to decimate, destroy and murder its population. Yes, it's a much watch.
Chelsea Handler is a New Jersey-born actress, comedienne, writer, producer and activist who hosted a late night talk show, "Chelsea Lately" from 2007 to 2017.
I'd seen several of her shows, never read her books. Her humor was a bit strong for my liking. I soon realized, staring into the mirror called: "if you spot it, you've got it" (coined by Mark A. Lyons) the difference between her well publicized sense of humor and foul mouth and mine were, she was authentic about her candor; whereas, I reserved mine for the proper audience.
Nevertheless, Chelsea had me laughing out loud and giggling within seconds of speaking. At 0200hrs., I was enjoying this more than I knew. It was just what any doctor would order for any and all Americans, living through 2020.
As many of us who seek evolution and healing for our life's traumas, Chelsea has done tremendous work on her own heart's wounds with the help of a professional psychiatrist.
The seriousness of her experience is detailed in her own hysterically amusing fashion for us to enjoy while providing a poignant, deeply emotional message for us, as a nation.
Run, don't walk, to watch this event. You'll experience what I'm saying within moments. Her smile says it all. Thank you, Chelsea, for doing your part, using your brilliant talent, to heal the world.
With a little over one week left of our history's most important election, many of us have already cast our votes.
I am urging those who have not yet done so, to please make it your business to get your vote in and counted. This year, it means, bypassing the United States Postal Service given it's been compromised. Please visit a polling place to vote, hand your ballots to the official voter's board or drop your mail in ballot into an official drop box.
If you enjoyed this article, please read and share it with your friends. Our Ringside Report Writers are truly a cut above the norm and we write for you, your benefit, your amusement, your hearts and minds.
Have an amazing week. Best and brightest blessings. Peace, out. JG 😀
Contact the Feature Writers