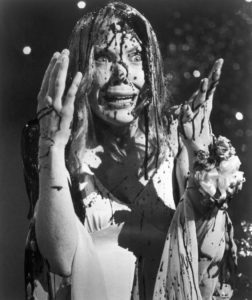 By Geoffrey Huchel
Part 3 of my Scream Queens spotlight series takes us back to 1976, when a young actress by the name of Sissy Spacek became a horror movie legend when she starred as Carrie White, a shy, friendless teenage girl who is sheltered by her domineering mother, unleashes her telekinetic powers after being humiliated by her classmates at her senior prom, in director Brian De Palma's horror classic CARRIE, based on Stephen King's best-selling novel. CARRIE shot Spacek to superstardom and earned her a place in horror movie history. Since CARRIE, Spacek has enjoyed a long and successful film career in film and television.
Actress and singer Sissy Spacek (Mary Elizabeth Spacek), was born on December 25, 1949, in Quitman, Texas. She is a recipient of several accolades including an Academy Award, three Golden Globes, two Critics' Choice Awards, a Screen Actors Guild Award and nominations for three Primetime Emmy Awards and a Grammy Award.
Early in her career Spacek was cast in an uncredited role in the Andy Warhol film TRASH (1970), followed by her first credited role in PRIME CUT (1972). The role led to television work. She made appearances in LOVE, AMERICAN STYLE (1969), THE WALTONS (1972), and THE ROOKIES (1972), as well as the TV movie KATHERINE (1975). The following year Spacek starred in her breakout role, Carrie White, in CARRIE. Spacek perfectly captured Carrie's multi-layered persona, which shifts from a mousy teen, to a chaste beauty, to a scorned young woman who snaps and takes revenge on those who wronged her. Spacek starred opposite Piper Laurie, Nancy Allen and John Travolta. Spacek was widely praised for her performance, including a nomination for the Academy Award for Best Actress. Following CARRIE, Spacek appeared in the films WELCOME TO L.A. (1976), and 3 WOMEN (1977), with Shelley Duvall, leading up to her Academy Award winning performance as Loretta Lynn in the biographical drama COAL MINER'S DAUGHTER (1980), also starring Tommy Lee Jones.
Spacek starred in the drama CRIMES OF THE HEART (1986), with Diane Keaton, Jessica Lange and Sam Shepard. Spacek's performance as Babe earned her an Academy Award nomination for Best Actress in a Leading Role and a Golden Globe win for Best Performance by an Actress in a Motion Picture- Comedy or Musical. She starred opposite Whoopi Goldberg in THE LONG WALK HOME (1990), Kevin Costner and Gary Oldman in JFK (1991), Demi Moore and Shirley Knight IF THESE WALLS COULD TALK (1996) and Brendan Fraser, Christopher Walken and Alicia Silverstone in BLAST FROM THE PAST (1999). Spacek turned in another Oscar nominated performance in the drama IN THE BEDROOM (2001), playing Ruth Fowler, whose son (Nick Stahl), dates an older woman (Marisa Tomei), who has two small children and an unwelcome ex-husband. Tom Wilkinson also stars.
During the mid-2000s, Spacek appeared in the films TUCK EVERLASTING (2002), featuring he CARRIE co-star Amy Irving, A HOME AT THE END OF THE WORLD (2004), with Colin Farrell and Robin Wright, THE RING TWO (2005), with Naomi Watts, NORTH COUNTRY (2005), with Charlize Theron, Jeremy Renner and Frances McDormand, AN AMERICAN HAUNTING (2005), with Donald Sutherland and Rachel Hurd-Wood, FOUR CHRISTMASES (2008), with Reese Witherspoon, Vince Vaughn, Mary Steenburgen and Robert Duvall and made a multiple episode appearance on the series BIG LOVE (2006).
In recent years, Spacek appeared in the drama THE HELP (2011), featuring an ensemble cast of accomplished actresses including Viola Davis, Emma Stone, Bryce Dallas Howard, Octavia Spencer, Jessica Chastain, Cecily Tyson, Mary Steenburgen and Allison Janney, the television series BLOODLINE (2015), CASTLE ROCK (2018) and HOMECOMING (2018).
Of all her films, CARRIE will remain on the top of my list. Not just because I enjoy the horror genre more than any other, but because of Spacek's unforgettable performance.
Essential Spacek:
CARRIE (1976)
COAL MINER'S DAUGHTER (1980)
CRIMES OF THE HEART (1986)
JFK (1991)
IN THE BEDROOM (2001)
NORTH COUNTRY (2006)
FOUR CHRISTMASES (2008)
THE HELP (2011)
Contact the Feature Writers