[AdSense-A]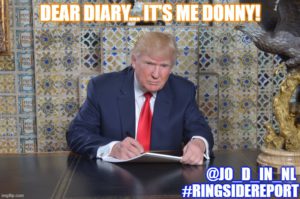 By Jo-Ann "Jo D NL" Duke
The diary scribblings of T4: Temper Tantrum Toddler Trump
Dear Diary,
Hey buddy, it's me again. I am so settling in for this fight, I am going to prove what everyone knows is really true; that I was the real and actual winner in the election, no matter what all those people who are trying to steal it away from me are saying all the time.
Like I will ever believe that somehow Sleepy Joe managed to get more people to vote for him and Nasty Kamala than they did for me and Malcolm; honestly, how could anyone really think that is possible?
I am getting rid of anyone who is not willing to back me up, and help me prove the truth so that everyone knows that I am right. I know who is really loyal to me now, since they are still backing me up.
They are still following me and what I have said about this stupid Covid virus, and who know that what is really going on; they are using this thing to try and get me out of here, like that is ever going to happen.
I am not leaving until I am ready, and right now, that thought is so far from ever happening; I won't leave unless they drag me out of here kicking and screaming, because I am not giving up being the president.
If I refuse to leave, there is nothing they can do really; they are not going to drag me out of here, so I have nothing to worry about. Meanwhile, just in case, I am getting it the way it will be almost impossible for them to fix things if they manage to somehow get me out of this place.
Remember the saying, don't get mad, get even; well, for me, it's both. I am going to make sure that people don't forget about how I feel about them trying to steal this election away from me.
Imagine, them thinking that I would ever believe that they beat me; we both know that I am way more popular and liked than the two of them; like anyone who knows the truth would ever think that was true.
Well, buddy, thanks so much for letting me get this off my chest, I feel so much better now after getting all that out. I have so much to do before my second inauguration in January, so I better get back to work on that, right? Don't want to have to do it at the last moment, you know, it takes a lot of work to get something like that set up right; it's going to be such a great day.
Bye for now, talk to you later and love you.
Donny
Contact the Feature Writers