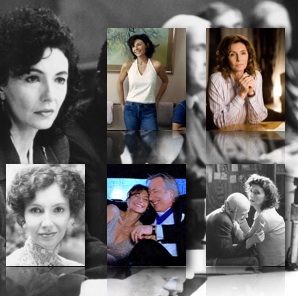 By Geoffrey Huchel
I remember being in elementary school and having special "movie days". Those were the absolute best days to be in school. And one particular "movie day" my fifth grade class watched the holiday film ONE MAGIC CHRISTMAS. It's a lighthearted family movie about a mother who lost the Christmas spirit. It would take a family tragedy and the help from a guardian angel help restore her faith in the holiday season. The movie's lead actress, Mary Steenburgen, gave an honest and believable portrayal of the Scrooge-like character. It was hard to not sympathize with her character, Ginny Grainger, even when she wasn't being the most sincere. Perhaps it was the love Ginny had for her family that made the difference. This performance is one of my favorites of Steenburgen, and after seeing her in this I was certain I would be looking out for her in other things.
Mary Nell Steenburgen was born on February 8, 1953, in Newport, Arkansas. She is an Academy Award and Golden Globe winning actress and singer, who began her career when she moved to Manhattan in 1972 to study acting at the Neighborhood Playhouse. She was discovered by Jack Nicholson in the reception room of Paramount's New York studio. Her big break came after she was cast in Nicholson's film GOIN' SOUTH (1978), which he starred in and directed. This led to a starring role in her next film, TIME AFTER TIME (1979). Her next film, MELVIN AND HOWARD (1980), earned Steenburgen the Academy Award for Best Supporting Actress and the Golden Globe for Best Supporting Actress in a Motion Picture. Her next film, RAGTIME (1981), starred James Cagney and Elizabeth McGovern and earned Steenburgen a Golden Globe nomination for Best Supporting Actress in a Motion Picture. Steenburgen followed with appearances in the Oscar nominated CROSS CREEK (1983), with Rip Torn, ROMANTIC COMEDY (1983), and an episode of FAERIE TALE THEATRE (1982-1987), playing Mary/Little Red Riding Hood and multiple episodes of TENDER IS THE NIGHT (1985). She starred opposite Harry Dean Stanton and a young Elisabeth Harnois (CSI) in the aforementioned ONE MAGIC CHRISTMAS (1985). ONE MAGIC CHRISTMAS would be the first of three holiday films she would appear in. Her next film was the thriller DEAD OF WINTER (1987), playing an actress who is lured to a remote mansion for a screen-test, soon discovering she is actually a prisoner in the middle of a blackmail plot. The film also stars Roddy McDowall. In the drama THE WHALES OF AUGUST (1987), Steenburgen played the younger version of Lillian Gish's character, Sarah Webber, opposite Bette Davis and Vincent Price, and portrayed Miep Gies in the historical drama THE ATTIC: THE HIDING OF ANNE FRANK (1988). Steenburgen starred in the comedy PARENTHOOD (1989), with an all-star cast including Steve Martin, Dianne Wiest, Keanu Reeves, Joaquin Phoenix, Jason Robards, Rick Moranis and Martha Plimpton.
Steenburgen was cast in the lead female role of Clara Clayton in the blockbuster trilogy BACK TO THE FUTURE PART III, with Michael J. Fox and Christopher Lloyd. She reprised her role for the animated BACK TO THE FUTURE (1991) animated series. Throughout the 1990s, Steenburgen made appearances in several hit movies including WHAT'S EATING GILBERT GRAPE (1993), with Johnny Depp, Leonardo DiCaprio and Juliette Lewis, PHILADELPHIA (1993), with Tom Hanks and Denzel Washington, PONTIAC MOON (1994), with Ted Danson, POWDER (1995), with Sean Patrick Flannery and Jeff Goldblum, and NIXON (1995), with Anthony Hopkins, Joan Allen, and Ed Harris.
Steenburgen married Ted Danson in 1995. In addition to PONTIAC MOON, she co-starred opposite her husband in the mini-series GULLIVER'S TRAVELS (1996) and the short-lived TV series INK (1996).
In the early 2000s, Steenburgen appeared in the dramas LIFE AS A HOUSE (2001), with Kevin Kline and Hayden Christiansen, I AM SAM (2001), with Sean Penn and Michelle Pfeiffer, LIVING WITH THE DEAD (2002), again starring opposite Ted Danson, and HOPE SPRINGS (2003). Steenburgen appeared in her second Christmas themed movie, playing Emily, the wife of James Caan in the hit comedy ELF (2003), starring Will Ferrell, Zooey Deschanel, Ed Asner and Bob Newhart. She returned to TV to star in JOAN OF ARCADIA (2003-2005), appearing in 45 episodes before the series was cancelled. She played Rose Byrnes's mother in the mystery drama THE DEAD GIRL (2006), also starring Toni Collette and Brittany Murphy, followed by THE BRAVE ONE (2007), with Jodie Foster. She costarred as Nancy in the hit comedy STEPBROTHERS (2008), as mother to Will Ferrell's character, Brennan, and stepmother to John C. Reilly's Dale Doback. She followed uyp with her third holiday themed film, the comedy FOUR CHRISTMASES (2008), playing Marilyn, the amorous mother to Reese Witherspoon's character, Kate. The film also starred Vince Vaughn, Robert Duvall, Sissy Spacek and Jon Voight. Steenburgen played Grace, the mother to Ryan Reynold's character, Andrew, in the comedy THE PROPOSAL (2009), starring Sandra Bullock, Craig T. Nelson and Betty White.
Steenburgen was cast as Elain Stein in the drama THE HELP (2011), based on the best-selling novel. The drama featured an ensemble cast with some of Hollywood's biggest names, including Viola Davis, Emma Stone, Octavia Spencer, Bryce Dallas Howard, Jessica Chastain, Cicely Tyson, Allison Janney and Sissy Spacek. Steenburgen's recent credits include appearances on the series 30 ROCK (2006-2013), and WILFRED (2011-2014), the films LAST VEGAS (2013), with Robert DeNiro, Michael Douglas, Morgan Freeman and Kevin Kline, A WALK IN THE WOODS (2015), with Robert Redford, Nick Nolte and Emma Thompson, the series JUSTIFIED (2010-2015), ORANGE IS THE NEW BLACK (2013-2019), CURB YOUR ENTHUSIASM (2000), and THE LAST MAN ON EARTH (2015-2018), the comedy/drama BOOK CLUB (2018), with Diane Keaton, Jane Fonda and Candice Bergen, and the series THE CONNERS (2018-), GRACE AND FRANKIE (2015-), and THE GOOD PLACE (2016-2020). Steenburgen is currently starring on the NBC comedy series ZOEY'S EXTRAORDINARY PLAYLIST (2020-). The freshman comedy series, starring Jane Levy and Skylar Astin, was an instant hit and was renewed for a second season.
Essential Steenburgen:
ONE MAGIC CHRISTMAS (1985)
PARENTHOOD (1989)
BACK TO THE FUTURE PART III (1990)
WHAT'S EATING GILBERT GRAPE? (1993)
PHILADELPHIA (1993)
THE HELP (2011)
Contact the Feature Writers