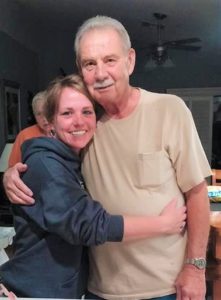 By Stacy Koruba
My hero walked into my life when I was 6 years old. My Mom brought him home one day and he never left. I still remember his charm and funny nature that day, he told me to call him Bo Beam, and he made everyone around him laugh. He would sing and dance and tell funny jokes and talk like Donald Duck. I believed he must be Donald Duck in the human form because his name was Don, kids think the funniest things! On Sundays he would go out bowling and before he left all the kids that lived in the house would line up and he would give us all a quarter, I thought he as the best. I had no idea that that my Mom had meet him at the bar she was working at, that he was a homeless person that would sleep on the pool tables at night and drink most of the day. It would not have mattered to me had I known.
I used to watch Little House On The Prairie and I quickly began calling him Pa which stuck well, till this day everyone that knows him refers to him as Pa. Neighborhood kids call him that and even return years later just to visit him. Anyone that knows him cannot help but love him. My Mom married him 2 years after bringing him home from the bar and he adopted me. I could not have picked a better Dad. He is human so he comes with imperfections, but the good in him outweighs the bad in so many ways. He saved me from a lot of abuse, and I believe I would have died had he not come into my life.
Psychologists have identified 12 central traits as heroism, they consist of, saves others, brave, courageous, self-sacrifice, determined, inspiring, helpful, selfless, honest, protecting, moral integrity and conviction. Four primary functions of heroism are to give us wisdom, to enhance us, to provide moral modeling and to offer protection. Uncovered evidence for the eight great traits of heroes consist of being wise, strong, resilient, reliable, charismatic, caring, selfless and inspiring. My Dad is all of this and more.
When I was 10 years old a monster broke into our home; he was drunk and high and came into my bedroom. He quietly undressed everyone of my dolls without waking me. He proceeded to take his pants and underwear off, get in bed behind me and began to tug on my nightgown from behind. I woke a few times, not realizing what was happening and just picked up this giant gorilla sized hand and put in behind me, falling back asleep. I woke up in a panic when he rolled me over, yanking my nightgown up and tearing my underwear down. He got on top of me, pressed a butcher knife to my throat while trying to shove his penis inside me and said, "If you don't make a sound, I won't hurt you." He placed his huge hand over my mouth and nose, when I could no longer breath I began to fight for my life. I struggled enough to be able to knee him in between the legs and bite his palm at the same time. " I screamed "he's going to kill me" and my Dad heard and came running out of his room. The evil creature heard my Dad's footsteps, jumped out of my bed, yanked his pants on, but only got them around his ankles and took off running for the backyard. My Dad trapped him back there and beat him repeatedly until the police arrived. In my 10 yr. old mind it seemed like it took and hour for the police to arrive, and my Dad was using a hammer to pound in between the devil's legs relentlessly. I remember the next-door neighbor yelling at my Dad to move, Tulio was his name and he had a shotgun and wanted to shoot the guy. My Mom took me in the house to get me dressed. That is when we turned on the bedroom lights and saw all the naked dolls, saw the butcher knife laying on my pillow. Found his leather jacket thrown across a chair, as if he were a guest in our home. This was the most terrifying experience of my life. He was convicted of a Class X Felony in Illinois and sentenced to 8 years. Sadly, 5 years and 4 months later, he raped, beat and stabbed a 77-year-old concentration camp survivor over 70 times. He would have received the death sentence, but one juror decided against it. I cannot help but think those were his intentions with me. My Dad saved me that night and has many times since then.
His arrival in my life saved me from much abuse from my Mother. Her abuse continued in many ways but when he was around, she toned it down. He struggled with alcohol abuse until 6 years ago, so she continued to get away with abusing her children with him there but not to the extent that it was before he came into our lives. He is also one of her victims. The rest of us have learned to escape from her or have passed away, he is still stuck. In 45 years of knowing him I have never heard him complain, about anything. He is never allowed to be sick or to have a bad day. He only purpose in life is to make sure she is taken care of, to make sure she has everything she wants. As far as she is concerned, she is his only reason to live and he should not have any other interests besides her.
When I was growing up our family did not have much money at all. We moved around a lot and many things that people take for granted were dreams for me. I did not have the chance to eat fast food very often and in the 3rd grade my Dad made a deal with me that if I got all A's that year he would take me to Burger King and I could get whatever I wanted. I worked hard at getting those grades, it was the same year that person broke into our home so at times concentrating in class or doing homework was the last thing I wanted to do, but I made a commitment and continued to strive to achieve it. I am a sore loser and do not give up easily. The end of the year report card was straight A's! We had to take 3 buses to get to the closest Burger King, my Dad kept his promise and took me there. Afterwards we went to this huge park across the street and played for hours. I remember him telling me how proud his was of me on the bus ride there. While we were eating our burgers, he was encouraging me to work hard at everything in life and I would be able to eat any meal I wanted, whenever I wanted. While we were at the park together, I felt like the most important person in the world. Like I had accomplished the greatest thing ever! This day is still my favorite memory. It is still my favorite meal. I know it does not sound like anything, but I worked so hard for it, and my Dad kept his word. We could not afford it, but he made it happen. At that time in our lives he was not able to provide for his family the way he wanted to but he was trying to teach me to never give up so that one day I would be able to provide for myself and my own family.
My Dad told me almost every day that I have known him that I could do anything I set my mind to. ANYTHING. He has taught me how to love hard and how to be loyal. I am compassionate because of him. I give freely to others because he taught me that is what is right. He showed me that family does not have to be blood related to love them completely with every fiber of your being. Every good quality about myself I learned from him. I learned patience from him, I learned forgiveness from him, I learned that money does not buy happiness. I learned how to walk away completely from someone once they have hurt me beyond repair. He taught me how to drive when I was 13 and I have never had an accident or got a ticket in 34 years of driving. I also got my stubbornness from him, which is not always a great thing, but I will take it. He is one of the greatest humans I have ever known and I am certain I would be a completely different person without him in my life.
He took my fishing every single weekend while I was growing up. Looking back, I know now those were our temporary reprieves once a week. Our secret place away from the unknown crazed outbursts my Mom would put each of us through. We sat for hours sharing a special relationship no one else in our family had. We were both the same person. Gentle, kind, caring, loving, unargumentative. We craved love and laughter and peace and goodness in life. Simple things we could get while sitting next to one another with a rod in our hand, him telling me jokes or stories about his life growing up. He would help me catch frogs or play in the mud with me, I would ask him questions about life, God, the world, friends, anything really and at that time I believed he had all of the answers in the world. He did not because no one does but I believed everything he said because his presence and his words made everything alright.
We haven't been fishing in decades, but anytime I am with him, any time he gives me a hug or listens to me without judging anytime I am with him and look into his eyes his presence and words still make everything alright.
My Pa is My Hero…
Contact the Feature Writers