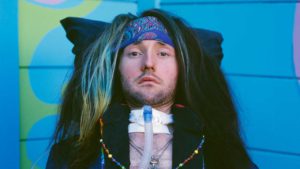 By Mark Koruba
Jason Becker was a true virtuoso. His skill with an electric guitar was, at times, otherworldly, soaring into places never heard before. He was different, he was rare.
At sixteen, Jason formed the band Cacophony with his friend Marty Friedman in 1985. In 1987 they released the album "Speed Metal Symphony". While the album was never an overwhelming financial success in the U.S., it sold well enough in Japan and Europe for Cacophony to sell out stadiums in those places, respectively.
Becker released a solo record in 1988, "Perpetual Burn", a personal favorite. He exhibited a myriad of guitar styles on the album and made each one his own in his way. He did not mimic his influences(Malmsteen, Hendrix, Van Halen) , instead he channeled them. He also used classical compositions, such as Paganini, writing his own arrangements of their compositions for the electric guitar. Brian May had pulled something similar off in the mid-seventies, but never to the level that Becker took it.
1988 also saw Cacophony release a second album , "Go Off". Then In 1989 Becker and Friedman parted ways to pursue solo careers and projects with other bands, Friedman with Megadeth and Becker with David Lee Roth.
During Becker's work with Roth in 1990 he discovered a slowly developing limp in his left leg. Upon visiting a physician, and some testing, it was discovered he had ALS. He was told he had three to five years to live. His body started betraying him quickly. He made adjustments with equipment to the Roth project completed for release but was unable to tour the record.
By 1996 Jason had lost all ability to move with the exception of his eyes. He worked with a computer system that allowed him to continue to compose music.
I do not know Becker personally, he is still with us composing, but interviews I've seen with him left me feeling like he might be the most well-adjusted human of all time. He still functions with hope and grace despite all that he has lost. There's a lesson there, somewhere, but I ain't preachin'.