[AdSense-A]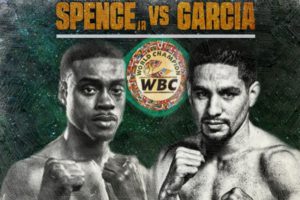 By Randy "The Commish" Gordon
Fourteen months ago, I sat ringside next to my SiriusXM radio partner Gerry Cooney at the Staples Center in Los Angeles, covering what turned into one of 2019's top boxing matches: Errol Spence, JR.'s close, competitive unanimous 12-round split decision victory over former champion "Showtime" Shawn Porter.
What a difference 14 months makes!
Prior to the fight, Cooney and I were invited by the fight's referee—Jack Reiss—as well as the California State Athletic Commission, to join Reiss in the dressing room of both fighters in the hour before the fight as he gave them their pre-fight instructions.
First, we went into the dressing room of Shawn Porter. The room was well-lit, as television cameras were in use, showing Porter to the viewing audience on FOX. The former IBF and WBC Welterweight Champion was sitting on a chair in his dressing room, looking fit, ready and relaxed. A few feet away, Shawn's father, was cutting strips of adhesive tape to be used on his sons' handwraps. Reiss politely asked Porter to stand up. Reiss then proceeded to go over the rules of the upcoming title fight and what he expected from Porter. His instructions left nothing out.
Included were polite, professional warnings against rabbit-punching, punches to the back, holding and hitting, hitting on the break, what he expected if knocked down ("I may tell you to walk to me or take two steps to either side"), responding after taking a hard punch ("You can fight back, move away, hold or stand there and cover up.
But, if I think you're hurt and not responding, I'll have to stop it").
Following his instructions, he asked, "Do you have any questions for me?" Ken Porter then asked, "Where will you consider a body shot to be a legal punch?" Reiss explained, showing on Shawn as he explained. When he finished, he asked "Any more questions?" When there were no more, he gave Porter a fist bump, said "I'll see you outside (in the arena), turned and walked out of Porter's dressing room. Members of the CSAC the IBF and WBC, along with Gerry Cooney and me, followed him out of the dressing room.
Two doors away was Spence, JR.'s dressing room. We followed Reiss in.
When we walked into Spence, JR.'s dressing room, the TV lights had just been turned on. The cameras were ready to show the unbeaten champion getting his pre-fight instructions from Reiss. Spence, JR., was on his feet, stretching and loosening up.
The chatter in the room came to a halt as Team Spence respected the army of officials which had just entered the room. All were in suits, ties, wearing CSAC badges, IBF and WBC patches, along with credentials which hung around each person's neck. Spence, JR. eyeballed the room.
When he saw me and Cooney, he smiled.
"Hello, Errol," said Reiss. "I'm here to go over the rules of tonight's bout with you. Spence, JR. nodded and said, "I'm ready."
Like a recording, the veteran referee went over the rules with Spence, JR. just as he had done a few minutes earlier with Porter. Another fist bump and we were on our way to ringside.
Cooney and I had anticipated a solid, action-packed fight. We got what we anticipated…and more. It turned into a welterweight classic, made that way by the enormous skills and athleticism of both fighters, and fueled by Porters' not-stop aggression.
Many of the rounds were razor-thin close. Experience has taught us that in fights with many close, competitive, two-sided rounds, a split decision await at the final bell. That's exactly what happened here.
Veteran judge Larry Hazzard, JR. scored the bout 115-112 for Porter. He was overruled by two other veteran judges—Steve Weisfeld and Rey Danseco—who each saw the fight 116-111 for Spence, JR.
The boxing world couldn't help but salivate over the thought of Spence, JR. climbing into the ring against WBO Welterweight Champ Terence Crawford sometime in 2020 for a massive unification bout.
What a difference 14 months makes!
First came a car accident Spence, JR. was involved in. It was a near-fatal car accident. Then we were hit by a vicious, virulent virus which shut down, not just the Spence, JR.-Crawford fight, but most of this planet, as well.
Twelve days after beating Porter, Spence, JR. went out to meet some friends. They had a night of fun. They hung out. They shared stories. They laughed. They drank. Shortly before 3:00a.m. (CT), they said goodnight to one another.
On the way home, alone in his Ferrari convertible, Spence, JR. pushed his foot on the gas. The Ferrari responded in the way sports cars do. It picked up speed. In the blink of an eye, he hit 90MPH…100…110…120. At 2:53a.m., something happened which caused Spence, JR. to lose control of the car. It swerved violently. Then it went airborne, bouncing, rolling, flipping and tumbling along the pavement at a destructive rate of speed.
As the Ferrari careened out of control, Spence, JR.—who was not wearing his seat belt, was ejected from the car. He hit the roadway. Hard.
Spence, JR. sustained cuts, bumps and bruises all over his 147-pound frame. He lost several teeth as he landed on the pavement. Yet, amazingly, incredibly, his body didn't break, snap and crush, the way his $400,000 automobile did. Authorities, after examining footage of the accident from security cameras along the road, say it's unexplainable how Spence, JR. wasn't permanently maimed, if not killed, after being ejected at the frightening speed.
"I'm a lucky man," Spence, JR. told Cooney and me on our SiriusXM show last week. "I was blessed. I was taught a lesson."
Last month, Spence, JR. posted a photo on his Instagram account (@errolspencejr), taken a day after the accident. The photo is horrific, showing the battered, cut and swollen face of an accident victim who looks more dead than alive.
When asked, "How could you possibly have survived that?", Spence, JR. shook his head and answered, "I have no idea. You tell me."
Few reports emerged from the Team Spence following the accident.
Through the remainder of 2019, the silence which came from his team was deafening, leading to rumors and speculation that Errol was in far worse condition than we were led to believe.
As 2019 became 2020, the pandemic descended upon us. Boxing, along with the rest of the world, shut down. Last Summer, as boxing returned on a limited basis, we were treated to a happy moment, as Spence, JR. was interviewed at ringside during a PBC show. During that interview, he said he had healed up completely and was back in training. He said he'd be back in the ring before the end of the year.
"It'll be against a quality fighter," said Spence, JR.
Days later came the announcement: Former world champion Danny Garcia would be that quality fighter. The date would be December 5. The site: AT&T Stadium in Arlington, Texas.
To hear Garcia announced as the opponent was a surprise. While Spence, JR. said his return would be against a quality fighter, nobody figured Spence, JR. to make his return against that much of a quality fighter.
Danny Garcia is, indeed, a top-tier boxer. He is a former Light Welterweight and Welterweight Champion, whose only two losses in a 36-2 (21 KO's) record are close, competitive decisions to Shawn Porter and Keith Thurman, both in world title fights.
At 32, Garcia is a fast-handed boxer-puncher, whose boxing resume shows victories over such gifted fighters as Lucas Matthysse, Paulie Malignaggi, Zab Judah, Amir Khan, Lamont Peterson and Ivan Redkach.
Garcia's left hook is regarded to be among the best in the division. Many of his 21 knockouts have come courtesy of Garcia's fast, hard, accurate hook.
The big question in this fight is "What percent of Errol Spence are we going to see?"
Will he be the Spence, JR. who has won all 26 of his fights—21 by knockout—in relatively easy and spectacular fashion?
Will he be the Spence, JR. who toyed with previously-unbeaten Mikey Garcia, handing him his first—and only—loss, winning every round on all three scorecards?
Will he be the Spence, JR. who went to the U.K. to face then-once-beaten Kell Brook, and chopped him down in 11 rounds?
Will he be the same Spence, JR. who faced then-unbeaten, rising welterweight prospect Carlos Ocampo in June 2018, and stopped him in the first round? Since that night, Ocampo has won all five of his fights, each in impressive fashion. It was just on the night Ocampo faced Spence, JR., he ran into what he called "a human buzzsaw."
Nobody knows what Spence, JR. will be showing up on December 5. Will it be the same, awesome Spence, JR. as we have been seeing since his debut in 2012?
Will it be 95% of Spence, JR.? Will it be less?
We're certain Garcia, at age 31, will be at 100% on fight night. But will 100% of the Spence we knew show up? Garcia has always said he can beat Spence, JR. Perhaps he could. Maybe that Spence will show up on December 5.
Somehow, after last year's car accident, it's hard to imagine 100% of Spence, JR. ever being seen again.
So, which Spence, JR. will show up? Anything less may not be able to beat Garcia.
On December 5, the most anticipated welterweight matchup of the year will take place.
Will the winner be Danny Garcia, who says he is more prepared for this upcoming fight than he has ever been?
Or, will it be Errol Spence, JR., who, last year, pulled off the biggest victory of his 30 years, when he pulled Life from the jaws of the Angel of Death?
On December 5, we'll find out who'll win the Terence Crawford Sweepstakes.
Randy "The Commish" Gordon is the Author of the hit book, "Glove Affair". Order your copy by clicking HERE.
Contact the Feature Writers