[AdSense-A]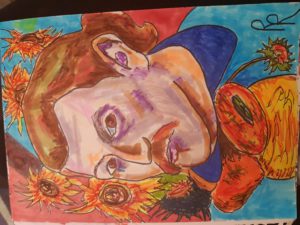 By Radical Rhymes
I feel it necessary to just say something about how art influences me, affects me. Sometimes I feel so overwhelmed by colour and light that it's like being stuck with a cattle prod. They hit me like a wall of sensations I fear will genuinely crush me.
I love to stare at the sunlight through trees, or the diamond strewn waves of the ocean. At times it's almost like I can smell the colours or taste the textures. Four dimensions, fifty, it is as if I am part of and outside of everything. Great companionship and terrible loneliness, such is the art of the world.
Often, I will find myself mesmerised by the silhouettes of thousands of twigs, desperate to map their relationship to one another. They seem like veins to me, veins of a greater reality, coursing with the blood of a mysterious universe. Their complexity and beauty lead me to rapture and despair.
And landscapes. The frenzied toothpaste scenes by van Gogh, or the orange and purple glories created by Cezanne. Landscapes that seem almost more real than the truths that stand before us. Do you see that? Is there joy in such work for you? Or do you feel detached? Unengaged? I have sympathy with it all.
But portraits are my true love. So much we can learn through portraits. The glint in an eye, the tilt of a head, or a half smile that hides as much as it reveals. What is on the mind of Mona Lisa? We could gaze on her forever and construct a million interpretations, none of which might be accurate. Perhaps even she didn't know what she was feeling.
For that, and other reasons, there is nothing like painting a portrait. The sweep of a cheekbone, or the shades and shadows that give the illusion of shape and form. Trying to capture the life in a person's eyes, there is nothing like it.
But in terms of enjoying art as a spectator, I mostly adore self-portraits. The pain and anxiety on the face of Vincent which makes me want to hug and reassure the artist. I empathise with him at a level that goes well beyond art, but to the everyday struggle that is life.
Frida's paintings skewer me, they fascinate me. Her desire to be honest often does her an injustice. She was beautiful in so many ways. I prefer the portraits that reveal her mischievous side, the ones that allow you to see something beyond the agony. I find myself bristling at the haughtiness of Gaugin and wincing at the brutal appraisals of Rembrandt.
Oh, the wonders of art, they represent what we see, think and feel, but they do so much more. They are the stuff of our very souls, and for that reason they delight and terrify me in equal measure…
Radical Rhymes is a professional artist working with a range of media – predominantly animal/human portraits and landscapes – including, most recently, hand painted furniture. You can see his work on Instagram Radicalrhymes1969 or on Twitter @RhymesRadical.
For commissions, please contact him on Twitter via Direct Message or by email at: radicalrhymes@outlook.com His work is also available to buy on Etsy
Contact the Feature Writers